This Job Will Pay You $24,600 to Travel and 'Literally Party for a Living'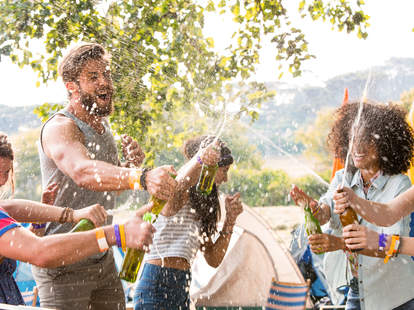 If all you want to do is travel and drink, but you can't fit them into your work schedule, well, how does traveling and drinking for a living sound? Too good to be true? So you'd think. But there's a real job out there just for you.
StagWeb, a UK company that specializes in bachelor parties, is looking to pay a Stag PartyTest Pilot $24,600 (£17,000) annually to "literally party for a living." Basically, you'll be testing out activities and nightlife for potential clients that include various escapades like "driving go karts, attending pub crawls, piloting jet aircrafts, and dodging paintballs." There's a little social media, writing, and event managing involved -- but mostly, it's partying. To make this all even more unbelievable, the company puts on parties in 80 locations all over Europe and will pay all travel expenses when it sends you to places like Barcelona, Amsterdam, and Budapest. 
StagWeb is asking that applicants have "serious partying credentials" and "an ability to laugh in the face of fear (or with a face full of paintball pellets)." The company also mentions that a decent alcohol tolerance would be beneficial. Have you started applying yet?
If you're dying to get on that application ASAP, go ahead and do that by clicking here. Keep in mind that the company is based in the UK, but if that's cool, send a resume, cover letter, and possibly "photos and videos of you leading the party" to StagWeb via email. 
Best of luck -- and best of luck explaining your resume at your next job interview, too.
Sign up here for our daily Thrillist email, and get your fix of the best in food/drink/fun.
Kara King is a News Writer at Thrillist and is gonna go party with Garth. Send news tips to news@thrillist.com and follow her at @karatillie.