Would-Be Thief Breaks Into Car, Doodles on Grandpa's Passport Instead of Stealing Anything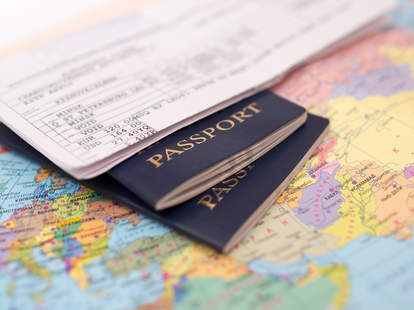 Your passport is a scrap of laminated paper that ensures your identity and enables passage across largely arbitrary and heavily guarded borders. It's the most crucial item in your possession, in some ways, and having it fall into the wrong hands is a very bad thing.
Some criminals, however, aren't interested in outright stealing passports, but adorning them with whimsical doodles. According to the UK's Metro newspaper, Ian Sheppard from Kent, England was the victim of this faux-crime last week. Someone broke into his car, but instead of stealing anything, scribbled a silly mustache on his passport photo. It's a cheeky gift from a would-be thief that begs you to spot the difference. Also, does it actually constitute a crime? It's hard to say.
Observe the hilarious disco embellishments on Sheppard's mug below:
Sheppard's daughter Chara Farrant posted about the issue on Facebook. She says her dad isn't even mad about getting a makeover in the style of a dashing 1970s Tom Selleck. She told Metro: 
"He checked over the car and nothing was gone – but then he had a look in his glove box and found somebody had doodled on his picture. When he showed me, I've never laughed so much, " she said.
No charges have been filed against any potential suspects, and it's unclear whether Sheppard is taking any stylistic cues from his impromptu makeover.

h/t Travel + Leisure 
Sign up here for our daily Thrillist email and subscribe here for our YouTube channel to get your fix of the best in food/drink/fun.
 
Sam Blum is a News Staff Writer for Thrillist. He's also a martial arts and music nerd who appreciates a fine sandwich and cute dogs. Find his clips in The Guardian, Rolling Stone, The A.V. Club and Esquire. He's on Twitter @Blumnessmonster.