Most people don't need any encouragement to take a selfie. Check Instagram, or Facebook, or your text messages, or, hell, even the news. But it's the very ubiquity of selfies that has the Pay Your Selfie app finding ways for the denizens of the internet to monetize those lovable selfies.
Launched back in September, the app offers users a task, always involving a selfie, for which they'll get paid. Take a selfie with your toothpaste. Take a selfie with your key ring. Take a selfie with your "favorite bottle of every day wine." Payment ranges from 20 cents to $1 per selfie, and once a user has taken enough to hit $20, they can have a check sent right to their doorstep (or they can have that money donated to charity).
How does it work? Corporations are paying on a per-engagement basis for the valuable information in those pictures.
 
Recommended Video
8 Marvel Movies to Binge Watch Before 'Avengers: Endgame'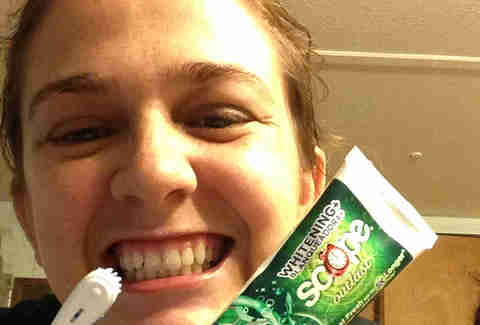 If users are asked to complete a task involving toothpaste, information can be gathered by Crest to learn about consumer habits. Through those selfies — largely taken by millennials, 60% in the 18-34 bracket and 70% female — the company discovered that a surprising number of people were brushing their teeth between four and six pm. They'll also know if you didn't brush your teeth on Thursday. Which is gross.
With privacy fears impacting user behavior across the internet, Pay Your Selfie kind of cuts to the heart of the situation. Almost everything done online is mined. You look up a recipe for sweet potato tacos, then check your email and Google is feeding you an ad for Seamless. That's not serendipity. It's... wait, actually... ordering in does sound kind of good...
The difference here is that it's seemingly all out in the open and they don't sell personalized information. Just the picture. 
 
When companies aren't paying for information, the app offers fun (assuming you think selfies are fun) paid tasks to keep users engaged. Though that doesn't mean that they aren't still looking for information. 
"We look through all selfies," says co-founder Kristen Holman. "We have more than 500,000 uploaded so far. We are always looking for interesting trends."
New York-based Pay Your Selfie user Maggie Ewen doesn't mind though. "I know that's what it's used for. I know it's used for market research, so I don't see it as a violation of privacy. They make it very clear that they can use [the selfies] for market research."
It's working so far. The company has over 100,000 registered users. "Our tasks are fun and drive engagement," says Holman. "People really like to take selfies."
Indeed they do. 
If this continues to work out, maybe they can try a service where they pay everyone on Facebook to stop streaming themselves driving. Seriously. Who are you people?