This New Site Helps You Send Free Beers to Furloughed Federal Workers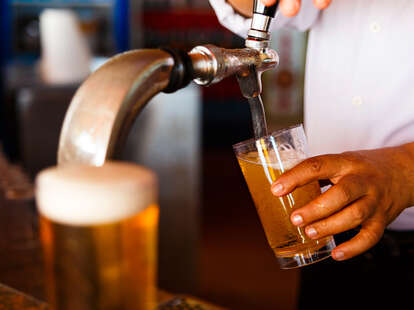 Shutterstock
Shutterstock
As the longest partial government shutdown in US history enters its fourth week, the effects are growing starker. Popular parks and museums continue to remain shuttered, airport terminals are closing, and even the craft beer and wine industry is facing consequences. Worse yet, hundreds of thousands of employees -- some of whom are still expected to show up to work -- aren't getting paid. And while there doesn't appear to be an end in sight to the madness at the moment, there is at least a glimmer of hope for some federal workers in Washington, DC thanks to a new service that's handing out free beers in select bars from wannabe do-gooders.
A new site, PayItFurloughed.com, is on a mission to help furloughed federal employees at least drink for free during this tumultuous period, by allowing people from anywhere to pay for and "send" them beers. More specifically, it lets anyone front the bill for a beer from a participating brewery in advance, which any affected employee can redeem by simply flashing their federal ID at a participating establishment. It may not replace a proper paycheck, but who's to say some gratis liquid therapy won't help ease at least some of the frustration brought on by the situation.
To contribute to the cause, you just log on to the site and click "Fund a Beer." From there, you'll have the choice to select how many you'd like to pay for, whether it's one ($7.50), two ($15), or an entire six pack ($45). Your contribution is then banked and available to be redeemed at two different DC-area craft breweries: Atlas Brew Works or DC Brau Brewery.
Any federal employee who's over 21 and has an ID proving as much can stop by at any time and score free beer. In fact, they can drink as much as they want, since there's no limit on how many can be redeemed (as long as there are beers that've been paid for to be consumed). Seems like there's plenty to go around at the moment, too, since more than 500 beers have been donated in the day or so the site has been live. As of this writing, only 13 have been redeemed so far.
We may not all agree on everything these days, and DC may be a cesspool of incompetence and partisanship, but it's tough to argue with any initiative that promotes free beer for those in need.
h/tThe Takeout

Sign up here for our daily Thrillist email and subscribe here for our YouTube channel to get your fix of the best in food/drink/fun.