PBR Just Launched 2 New Beers, Including One That's Significantly Boozier
The next time you sidle up to the bar and order a PBR, you may be confused when the bartender asks you "which one?"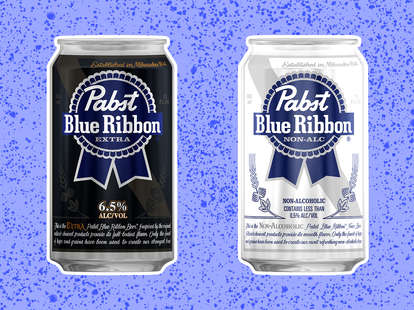 Frannie Jiranek/Thrillist
Frannie Jiranek/Thrillist
The next time you sidle up to the bar and order a PBR, you may be confused when the bartender asks you "which one?" Don't be. The budget-friendly dive bar mainstay is releasing two new options for your casual drinking pleasure, including one with a boozier 6.5% ABV and another that's non-alcoholic.
To celebrate its upcoming 175 anniversary later this year, Pabst Blue Ribbon announced this week that it's adding two new iterations of its beloved cheap beer: Pabst Blue Ribbon Extra and Pabst Blue Ribbon Non-Alcoholic. The former will be boozier than the original with a 6.5 ABV (a classic PBR has an ABV of 4.6%), while the latter will be, as its name suggests, practically booze-free (0.5% ABV). It's part of a slate of new releases the brewery has planned to mark its momentous birthday, including its first-ever whisky.
"Pabst Blue Ribbon recognizes that today's drinkers demand great tasting products with flexibility and options for a range of lifestyles," the company said in its announcement. "Synonymous with creatives and doers, Pabst Blue Ribbon is blazing its own path in 2019 and will unveil a series of bold product innovations throughout the year."
As for what the new offerings taste like, Thrillist hasn't had the chance to sample them quite yet but PBR Extra, which will come in a dramatic black can, is described as "a light, crisp higher 6.5% ABV alternative to heavy drinking beers" and "an upbeat, full bodied, refreshing beer brewed for the big event." The beer company touts PBR Non-Alcoholic -- coming in an all-white can -- as "an authentic product made with the finest hops and grains offering a great real beer taste, that allows everyone to join the occasion."
Both offerings evidently started rolling into stores and bars in March, though you can see where they're available in your area at the moment using the brand's handy PBR Finder. Alternately, you could probably just pop in to any local watering hole popular among bearded hipsters and probably find what you're looking for.
h/t Food & Wine

Sign up here for our daily Thrillist email and subscribe here for our YouTube channel to get your fix of the best in food/drink/fun.