The Peach Recall Has Expanded to Target, Walmart, Kroger, Wegmans & More
A recall on peaches across the US has expanded to include Target, ALDI, Wegmans, Ralphs, Walmart, and many other stores.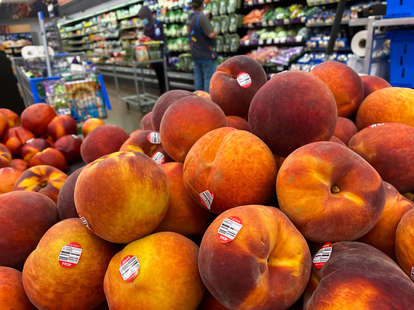 Last week, the FDA shared a recall on bagged peaches sold at ALDI locations and distributed by Wawona Packing Company. Like the onion recall before it, the peaches recall has been dramatically expanded. Unfortunately, you'll have to read about the recall to figure out the details because the FDA has not released a surprisingly helpful parody of The Presidents of the United States of America's most popular song.
The recall now includes bulk (loose) and bagged peaches from Wawona Packing and Prima Wawona. These have been sold at some big retailers across the country like Target and Walmart. The raison d'recall is reports of Salmonella Enteriditis infections that the FDA and CDC have traced back to Wawona as the likely source.
As of August 22, there are 68 reported cases of Salmonella connected to peaches, spread across nine states. Illnesses have only been reported in Iowa, Maryland, Michigan, Minnesota, New Jersey, New York, Pennsylvania, Virginia, and Wisconsin. However, according to an earlier recall announcement, the peaches have been distributed in at least 35 states.
FDA Peaches Recall List
The recall now includes loose peaches sold from June 1 through August 3, as well as bagged peaches sold from June 1 to August 19. The bagged peaches were sold under the below brands and code numbers. The codes are found at the bottom of the bag.
Wawona Peaches – 033383322001
Wawona Organic Peaches – 849315000400
Prima Peaches – 766342325903
Organic Marketside Peaches – 849315000400
Kroger Peaches – 011110181749
Wegmans Peaches – 077890490488
The bulk peaches came with the codes 4037, 4038, 4044, 4401, 94037, 94038, 94044, and 94401. Though, not all peaches with these codes are necessarily from Wawona. Those peaches were sold at the following stores:
Wegmans has additionally recalled many bakery items purchased from August 16 to 21 that included the potentially contaminated peaches.
Vanilla Trifle (9 oz.)
Mini Fruit Topped Shortcake (5 oz.)
Made with No Gluten Containing Ingredients Shortcake Slice (6 oz.)
1 Layer Peach Shortcake (26 oz.)
Mini Peach Shortcake (5 oz.)
Peach Shortcake Slice (7oz.)
Peach Melba Whipped Cream Cake
Fruit Topped Cream Cheese Pie (40 oz.)
Mini Fruit Top Cream Cheese Pie (9 oz.)
Single Fruit Tart (22 oz. & 4 oz.)
Rustic Peach Tart (21 oz. & 3 oz.)
Dessert Cake/Slice
Made With No Gluten Containing Ingredient 1/8 Shortcake (30 oz.)
Made With No Gluten Containing Ingredients 1/4 Shortcake (60 oz.)
Like with the onion recall, the FDA suggests you throw away any peaches if you bought them at one of these stores before August 3 and aren't sure whether or not they're from Wawona. "Most people infected with Salmonella develop diarrhea, fever, and stomach cramps 6 hours to 6 days after being exposed to the bacteria," the CDC says. Symptoms can get worse, especially for children, people over the age of 65, and anyone with a weakened immune system.
Sign up here for our daily Thrillist email and subscribe here for our YouTube channel to get your fix of the best in food/drink/fun.