Courtesy of Pepsi & Peeps
Courtesy of Pepsi & Peeps
If you're caught up on the latest Pepsi news, you know that the soda company just partnered with Peeps to create a marshmallow-flavored cola ahead of Easter. Most humans would react to the new Pepsi collab with a simple "ew," but if there's one thing Thrillist has learned in our years of covering Pepsi products, it's that obscure Pepsi flavors are almost always better than they sound.
Just last week, I tried Pepsi Mango, the cola brand's newest permanent flavor, and wasn't mad about it. Other past flavors from the company, like Pepsi Cocoa Cola and Apple Pie Pepsi, were also surprisingly delicious. All this to say that when I heard about "Peepsi," I wasn't necessarily excited, but I knew better than to discredit it before trying it out.
The new Peeps Pepsi is purposefully exclusive—it won't be sold in stores. Instead, you have to enter a social media sweepstakes and hope you're chosen to receive a three-pack. To be considered, you need to post a photo of you enjoying springtime with Peeps Marshmallow Chicks and Bunnies before Wednesday, March 31. The post should include the hashtag #HangingWithMyPEEPS and tag both brands' accounts.
Fortunately, I got my hands on a few Peepsi cans for the sake of research, so read on and see my thoughts on the soda if you need help deciding whether entering the sweepstakes is worth it.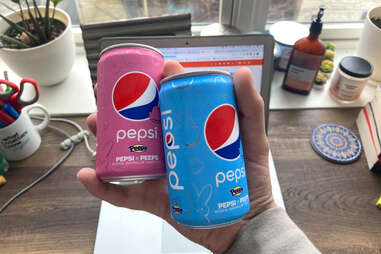 Peepsi comes in three colors, not three flavors.
Before dissecting the flavor of Pepsi's marshmallow-flavored cola, it's important to clarify that there's only one flavor. The cans come in three happy pastel colors—pink, blue, and yellow—but the contents of each can are the same.

Peeps-flavored Pepsi is softer than regular cola.
"Soft" is a strange adjective to use when describing liquids, but it's the only adjective that really captures the essence of how Peepsi differs from regular Pepsi. The drink has less of a bite that's characteristic of most carbonated drinks, and its gentle flavor glides down your tongue and into your stomach with ease.

Marshmallow cola tastes like liquid sugar.
Unsurprisingly, Peepsi is sweeter than standard cola—but that's not necessarily a con. It's still drinkable, and less sweet than you might expect from a dessert-flavored soda. If it didn't taste sweeter than normal Pepsi, it wouldn't taste like Peeps, which is basically pure sugar. Considering the mission at hand, Pepsi's food scientists did a great job at embodying Peeps without overdoing it.
The best part of Peepsi is that it comes in small, 7.5-ounce cans. Pepsi recognized that a more indulgent drink would be overpowering in large doses, and the dainty can size means you can slurp down the cola without feeling too sick afterward. Each can is only 100 calories, granted each one contains 26 grams of added sugars and 20 milligrams of sodium.
If you don't like Pepsi, you might still like Peepsi.
If you're not a fan of cola, the Peeps x Pepsi collaboration could still be worth trying out. You can tell that it has a Pepsi base, but the cola flavor doesn't dominate your tastebuds too much. Of course, if you avoid Pepsi because of its sugar content, this probably isn't a great fit for you.

Pepsi and Peeps make a fine pair.
At the end of the day, Pepsi x Peeps isn't as wild of a partnership as you'd expect. The two companies have something in common—sugar—and sugar combined with sugar rarely tastes bad. Peepsi is more of a dessert than a drink, but it's not a gross dessert by any means. If for no other reason, you should try to win a pack for the novelty.