You Can Dress Like a Real Dick For Halloween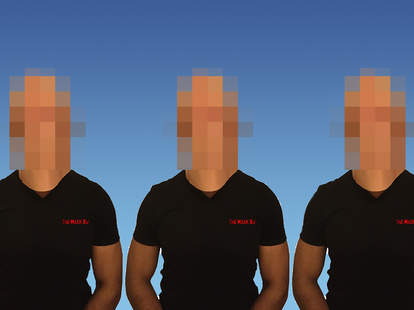 Image by Ryan Craggs/Thrillist, source image via The Mask Biz
Every year there are a few Halloween costumes that everyone seems to gravitate towards. Whether that's an old standby like The Joker or a pop culture reference like Ken Bone (or sexy Ken Bone), it means there's a good chance that you're going to a Halloween party dressed just like someone else, because America has some boring-ass taste in costumes.
If you want to make an impression, consider dressing up as a dick. No, that doesn't mean dressing as a presidential candidate. It means that you can dress up as an actual penis, thanks to this gross mask from The Mask Biz. 
The Mask Biz
Complete with eye holes, so you don't run into people like a dick, this mask is a real conversation starter. It runs just $24.99 and there are so many uses beyond Halloween that it's really an investment in your future. Imagine going to a cafe and ordering a half-caf cappuccino with no foam! Imagine driving in the carpool lane by yourself! Imagine sharing pointless Facebook hoaxes! You'll always be able to say, Sorry, I'm a dick.
Melissa Coulter
At the other end of the spectrum, there's this beautifully (and frighteningly) crafted vagina mask handmade by San Diego-based artist Melissa Coulter. She says the silicone mask is "fully functional" as a BDSM mask. It's not exactly the humor piece that the penis is, but it too makes an impression. 
If you're in the market for something more meticulously crafted like this, the price corresponds. This one retails for $520. It's steep, but if you show up to a party in this mask there's little chance you're wearing the same costume as someone else.
h/t Dangerous Minds
Sign up here for our daily Thrillist email, and get your fix of the best in food/drink/fun.
Dustin Nelson is a News Writer with Thrillist. He holds a Guinness World Record, but has never met the fingernail lady. He's written for Sports Illustrated, Men's Journal, The Rumpus, and other digital wonderlands. Follow him @dlukenelson.