Sure, everyone has their favorite Insta filter (it's Valencia), but that doesn't mean you'd name your firstborn after it. Actually, never mind. That's exactly what people are doing. 
According to a baby names survey conducted by BabyCenter.com, Instagram-themed names are on the rise. So, for instance, the name Lux saw a 75% increase in 2015, while Ludwig is up 45%. Juno, Amaro, Valencia, Willow, and Reyes are gaining in popularity as well. X-Pro II, not so much.
The Editor-in-Chief of BabyCenter, Linda Murray, had this to say on the results, "This is the first time we've seen technology break through as a source of name inspiration. Photo-sharing is a daily and emotional part of Millennials' lives, and those two ingredients can trigger love for a name." It does make sense as it often seems the first thing on mom's mind after the birth is, "This kid would look great under a Willow filter."
Other notable trends included a move towards gender neutral names, interest in names that demonstrate royalty, like "Princess," and the continued influence of television on name choices. But some things never change. The most popular baby name for girls was "Sophia" for the sixth year in a row. For the boys, the name "Jackson" continued its three-year run as most popular. 
Take a look at the Instagram-influenced baby names and the top five most popular names in the graphics below. After that, thank your parents for their sanity. Unless your name is "Apple Orchard." Then thank them with a punch in the face.
Recommended Video
Check in to Hotel Thrillist this September!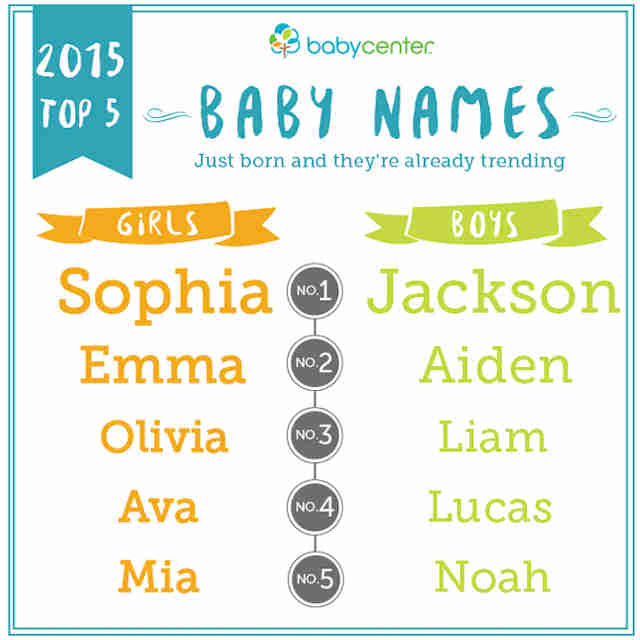 Sign up here for our daily Thrillist email, and get your fix of the best in food/drink/fun.
Kara King is a Writer at Thrillist and is terrified of babies. Send news tips to news@thrillist.com and follow her at @karatillie.