Vladimir Putin -- powerful Russian president, or terrifying bird overlord?
A Russian TV station claims a recent YouTube video clearly shows the face of the nation's leader taking the form of a huge swarm of birds over the Manhattan Bridge in NYC, and, well, it's actually kind of insane. While Russians and the government-controlled media might just be accustomed to seeing the stern face of their ruler looking down on them, there's no mistake the undulating outlines of the birds morph into the form of a face around the video's 6 second mark. Can you see it?
Recommended Video
Is Dessert Pizza Really a Pizza?

The video, uploaded to the site on Tuesday by a person named Sheryl Gilbert, is approaching 700,000 views following the attention in Russian media and has garnered several comments from Russian viewers, some of whom speculated the bizarre sight is a sign that America shouldn't mess with the aggressive country, according tot a report by The Washington Post.
Because, clearly, Putin is actually a treacherous necromancer preparing to unleash swarms of militarized birds on the city.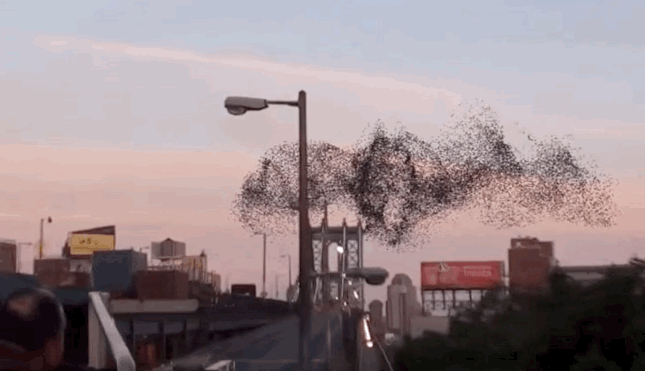 Some have also seen the face of Steve Jobs and a handful of other figures in the birds, and of course, many are questioning the authenticity of the video altogether. Perhaps it was 
Vigo the Carpathian
 preparing to exact revenge on New York after his defeat in
Ghostbusters 2
, in which case we know who to call... 
Follow us on Facebook for a steady stream of daily NYC stories, and be the first to get all the food/drink/fun/news New York has to offer.
Tony Merevick is Cities News Editor at Thrillist and wonders: Are those birds or the bats of Dol Guldur. He is a nerd. Send news tips to news@thrillist.com and follow him on Twitter @tonymerevick.