Netflix Users Spend Twice as Long Bingeing Daily as They Do With Friends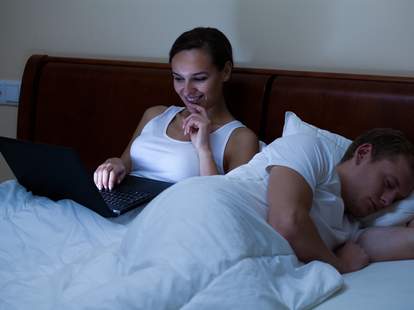 Americans aren't so much daydreaming about a beer with friends after work as they're daydreaming about a beer and Friends. Netflix subscribers are actually spending more time with their streaming service than socializing. At least, that's what a comparison of data at Cord Cutting says.
Based on statements by Netflix CEO Reed Hastings, the site surmised subscribers are watching about an 1 hour and 40 minutes of the streaming service every day. In a vacuum... yikes. We're trying really hard to catch up on Agents of S.H.I.E.L.D. before the season finale.
But it's not that surprising. Americans watch butt-tons of TV in general.
A Nielsen report in 2014 said Americans are watching 5 hours of TV daily, and a more conservative U.S. Bureau of Labor Statistics survey from 2015 put that number at 2 hours and 48 minutes daily. You know that's true. Otherwise, how would the Snuggie have been a $500 million idea?
The same BLS survey that Cord Cutting used suggests that 100 minutes of Netflix daily bingeing towers over the paltry 38 minutes spent "socializing and communicating" on weekdays. Digging deeper into the BLS data reveals huge gaps between Netflix watching and other activities, too. For instance, Netflix-ing dwarfs the 8 minutes spent reading on weekend days by teenagers. Didn't anyone's parents finish Teach Your Child to Read in Just Ten Minutes a Day?
As for time spent "relaxing and thinking" or exercising? Well, that's... it's... oh my, we watch a lot of Netflix.
No one is saying Americans have to change. But maybe consider getting a coffee every now and then to talk about the new season of Kimmy Schmidt and read some articles dissecting who is going to be in The Defenders. Really, it's not that hard. And based on your Netflix habits, it's clear you've got the time.
Sign up here for our daily Thrillist email, and get your fix of the best in food/drink/fun.
Dustin Nelson is a News Writer with Thrillist. He holds a Guinness World Record, but has never met the fingernail lady. He's written for Sports Illustrated, Men's Journal, The Rumpus, and other digital wonderlands. Follow him @dlukenelson.