More Than 60 Breweries Are Making a Beer With the Exact Same Name. Here's Why.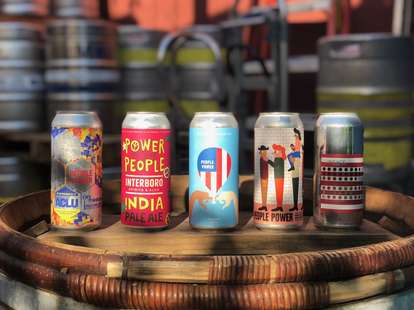 Courtesy of Threes Brewing
It's confusing. I'm drinking a juicy hop-forward beer with red and white stripes from Finback. It's called People Power. Then it's a blue can from Threes Brewing with an American flag balloon containing a bright, refreshing pilsner. It's called People Power. Then I'm tasting a mellow pale from Industrial Arts with multi-colored counties dotting the can. You can probably guess the name of this beer.
All three are a part of the People Power Beer project, which launched on the Fourth of July, helmed by Threes Brewing out of New York. More than 65 breweries have signed up to create a beer called People Power and donate 10% of the proceeds to the American Civil Liberties Union's People Power campaign. That campaign impacts voter mobilization and is "the ACLU's platform for grassroots action," says Lauren Weiner, Political Communications Manager for the ACLU.
Josh Stylman and his team at Threes Brewing started emailing friends in the industry, hoping to put together a project to support People Power. "We got to talking with [the ACLU] and said, 'How would you feel if we did a People Power beer and donated proceeds?'" he said. "We talked for a few more minutes and thought it'd be really cool if we got other breweries to do it too. That's kind of the spirit of People Power."
Stylman emailed friends, who emailed friends, and the project started to grow. "Subsequent to [those emails] I think we got some that signed up on the website, we've got some that were referred by other breweries. It's taken on a little bit of a life of its own."
Now, the list seems to have grown every time you look. More than 65 breweries are creating their own People Power beer between the Fourth of July and Election Day. That includes breweries across the country including Alvardo in California, Fair State Co-op in Minnesota, The Collective Brewing Project in Texas, Brew Bus in Florida, and Hawaii's Homebrew in Paradise. Something about the communal nature of the campaign and an exciting way to support the ACLU has drawn brewery after brewery to the project.
"We have seen an incredible groundswell of support from individuals and business across the country," says Weiner. "Civil rights and civil liberties threats are felt acutely by businesses as they affect their employees, their customers, and their communities."
Asked if he started with a fundraising goal, Stylman seems overwhelmed at the number of people who have jumped on board. "We're kind of just winging it," he says. "Initially, I thought it'd be really cool if we got a couple dozen breweries. We're well past that now."
Stylman's enthusiasm is echoed by breweries who are joining in. "I am a former attorney who dabbled in free legal services, but never could muster the time and strength that it took to make an impact," says Douglas Reiser, co-founder and COO of Asheville's Burial Brewing. "The ACLU does that. They are a well-bonded force that can fight injustice from all angles, where it can make real change. So, we can all get behind that."
Craft beer is about community. Big beer is buying up craft breweries left and right, so it's not just about quality. The thing that sets craft beer apart on a national scale is the kind of communal bonds a brewery is capable of creating. While the brewers involved in People Power Beer are supporting a cause, the organic growth of the project and its aim of supporting local communities through the ACLU are a fresh reminder of what can make craft beer special.
Where to get People Power beers
Arizona: 12 West Brewing
California: Alvarado Street Brewing, Clandestine Brewing, Fieldwork Brewing, Highland Park Brewery, Mikkeller
Colorado: Lady Justice Brewing
Connecticut: Hanging Hills Brewing, Kent Falls Brewing, New Park Brewing
District of Columbia: Three Stars
Florida: Brew Bus Brewing
Hawaii: Homebrew in Paradise
Illinois: Alarmist Brewing, Burnt City, Hopewell Brewing, Metal Monkey Brewing, Middle Brow Beer, Sketchbook Brewing, Werk Force Brewing
Louisiana: Courtyard Brewery
Maine: Goodfire Brewing Company
Massachusetts: Aeronaut Brewing, Big Elm Brewing, New City Brewery
Michigan: Eastern Market Brewing
Minnesota: Fair State Co-op
Missouri: Crane Brewing Company
New York: Alewife Brewing, The Brewers Collective Beer Co, Threes Brewing, Community Beer Works, Finback Brewing, Industrial Arts Brewing, Interboro Spirits and Ales, Island to Island, KCBC, Mikkeller, Mill House Brewing, Prison City Brewing, Rockaway Brewing, Strong Rope Brewery, Thin Man Brewery
North Carolina: Burial Beer, Fullsteam Brewery, Resident Culture Brewing, Trophy Brewing
New Jersey: Dark City Brewing, Icarus Brewing
Ohio: Actual Brewing, HiHo Brewing, Little Fish Brewing, Seventh Son Brewing
Oregon: Look Long Brewing
Pennsylvania: East End Brewing
South Carolina: Columbia Craft Brewing Company
South Dakota: Fernson Brewing
Tennessee: Bearded Iris
Texas: The Collective Brewing Project
Washington: Cloudburst Brewing
West Virginia: Morgantown Brewing
Virginia: Aslin Brewing
Release dates and availability will vary.
Sign up here for our daily Thrillist email and subscribe here for our YouTube channel to get your fix of the best in food/drink/fun.

Dustin Nelson is a News Writer with Thrillist. He holds a Guinness World Record but has never met the fingernail lady. Follow him @dlukenelson.