Porn Views Went WAYYY Up During Winter Storm Jonas
Two things that correlate surprisingly well: Pornhub's traffic, and the usage of men's penises in Washington, DC, during Winter Storm Jonas.
You can figure out of this is a logical fallacy or not, but as Pornhub aptly stated in its blog post, "With nowhere to go, and plenty of time on their hands, people chose to put their hands to good use and headed to Pornhub – much more than usual."
The porn giant outlined its site traffic in four major cities: Boston, New York, Philadelphia and Washington DC, and according to the resulting bar graph, it saw terrific numbers during the entire blizzard weekend. Washington DC saw the greatest increase, with site traffic up by 25% on Sunday. No word on what US Congress members contributed. 
Here are the hot stats: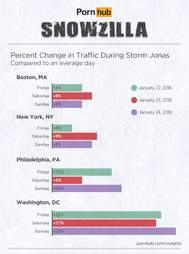 Pornhub
Now just in case you're thinking something else was going on that weekend, like, a huge, coincidental surge in male libido for instance... well, sure, maybe. But, it sure does seem like people dedicated all that house-bound time to viewing porn. This is evidenced by the graph below, which shows desktop vs. mobile use across New York state.
Desktop use was way up during the storm, and so was New York residents' viewing. Anyway, that kind of desktop use is not normal, as phones are usually the device of choice. But, if people are forced to stay in doors, why not view your porn on a luxuriously large screen?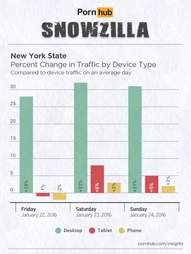 Pornhub
For a more detailed breakdown of porn consumer habits during Snowzilla, you can take a look at the hour-by-hour charts for each major city below.
But, these results are nothing new. Pornhub reported similar traffic increases during last year's Winter Storm Juno. And to all of you who just innocently made hot cocoa and cookies during the storm, well, hopefully you didn't spill any cocoa when you gave up on that plan and turned on the porn. That's a good way to get a blister.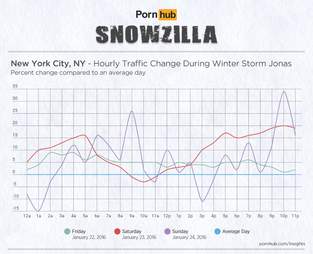 Pornhub
Pornhub
Pornhub
Pornhub
Sign up here for our daily Thrillist email, and get your fix of the best in food/drink/fun.
Kara King is a News Writer at Thrillist and definitely made cookies during the storm. Send news tips to news@thrillist.com and follow her at @karatillie.