Pepsi Just Unleashed a New Apple Pie Soda Flavor for Thanksgiving
You don't even have to go near the stove for dessert this year.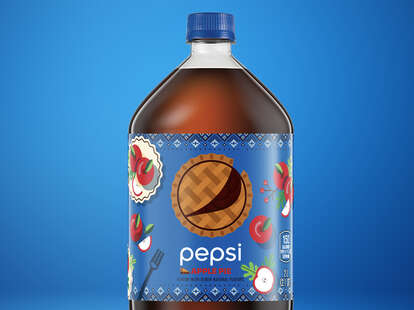 Courtesy of Pepsi
Courtesy of Pepsi
We've all been there. You think you've got grandma's walnut pumpkin cake recipe under control until you've started a small kitchen blaze and the local fire department is on its way to Thanksgiving dinner. Since we've already got enough to worry about this year, Pepsi wants to take those baking blunders off your plate... with a new soda.
The company announced Tuesday that it's created something for your dessert spread that you, simply, can't screw up: Apple Pie Pepsi. Whether you're skipping the big dinner altogether or just can't risk another kitchen disaster, the company's 2-liter bottled version of the iconic dessert has got the same notes of cinnamon, buttery crust, and crisp apple, according to a spokesperson.
"Failing at baking—especially this year—is nothing to be ashamed of, and we're celebrating those amateur bakers that are truly trying their best during a unique holiday season," vice president of marketing Todd Kaplan said in a statement. "With Pepsi Apple Pie, we're providing a refreshingly delicious twist on the traditional slice of apple pie, while making sure people have some fun and don't take themselves too seriously in the process."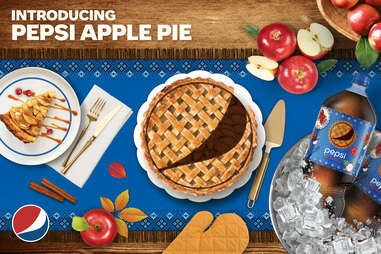 If you are, in fact, the anti-Mary Berry and need a bottle of Apple Pie Pepsi to jazz up the dessert table, you'll need to work for it. These suckers aren't just hitting store aisles. Pepsi is giving away 1,500 2-liter bottles as part of its #PepsiApplePieChallenge.
Here's how it works: To win, you'll need to hit up the company's Twitter or TikTok account with a photo or video of your own baking fail. Make sure to follow the official @Pepsi account and tag your post with #PepsiApplePieChallenge.
Sign up here for our daily Thrillist email and subscribe here for our YouTube channel to get your fix of the best in food/drink/fun.
Megan Schaltegger is a staff writer at Thrillist.