Pepsi Is Unleashing a Coffee-Soda Hybrid With Double the Caffeine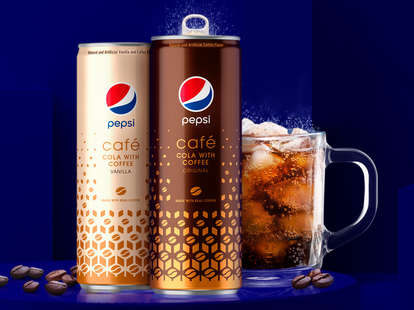 Courtesy of Pepsi
Courtesy of Pepsi
I'm rarely seen without a coffee in hand. In fact, it's like an arm or leg -- permanently attached and integral to my day-to-day function. But occasionally -- namely, Mondays -- I have one gripe: it's not caffeinated enough. I'm want more.
Apparently, Pepsi gets it. On Thursday, the company announced the 2020 launch of Pepsi Café, a coffee-soda hybrid that packs double the caffeine punch. The 12oz cans, which will make their official debut in April, are available in two flavors: Original and Vanilla. The former is a robust black coffee-esque blend while the latter will satisfy the latte enthusiasts of the world.
Now, if you're thinking, wtf does a coffee-flavored cola taste like and why would I try it, please withhold judgement until you've tasted it. Both the straight-up soda and vanilla version are refreshing, crisp, and offering a pleasing balance of soda and coffee flavors. How do we know? We tasted samples of them this week.
"We know that the consumers today are looking for products that meet the needs of energy, indulgence, and refreshment during that afternoon pick-me-up occasion. At Pepsi, we've known the potential of blending cola and coffee for years and after striking the perfect balance, we cannot wait to introduce Pepsi Café to the US next year," VP of Marketing Todd Kaplan said in a statement. "We are confident that cola fans, iced coffee drinkers and anyone in need of an extra caffeine boost will love the unexpected flavor medley of roasted coffee infused into the refreshing, crisp flavor of Pepsi."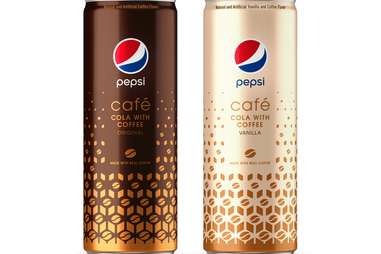 This isn't, however, a first for the brand. Pepsi tested similar products, Pepsi Kona and Pepsiccino, in 1996 and 2004. "We leveraged both of those learnings and then went to the consumer groups and said, 'OK, what is the right space?' And it's somewhere right in the middle," Director of Research and Development Danielle Barboro said, according to CNBC.
I'm here for the caffeine, of course, but maybe third time's the charm.
Sign up here for our daily Thrillist email and subscribe here for our YouTube channel to get your fix of the best in food/drink/fun.
Megan Schaltegger is a staff writer at Thrillist. Follow her @MegSchaltegger.