This Chain Just Unleashed a Pizza With Chicken Instead of Dough Under Your Toppings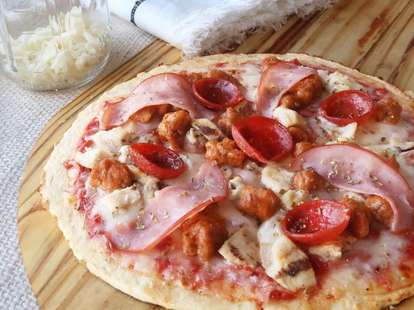 Chicken might not be the first topping you think of putting on a pizza, but it's certainly not the most outlandish thing people put on pizza. Pizza Hut and KFC just teamed up and it doesn't seem strange at all.
However, chicken under a pizza is a different story. Pieology just debuted a pizza that has no dough or delicious, bready crust. Instead, all your fixin's sit on top of chicken. The base is made of chicken, eggs (more chicken, really), and cheese. A representative told Thrillist to think of it as pizza atop a flattened chicken breast.
Of course, the lack of dough and a generous helping of protein makes this a keto-friendly pizza. Though, it's also generous to start thinking of this as health food.
So, add it to the list of six crusts already offered by Pieology. Though, this is only going to be around for a limited time. You'll be able to track it down in every state except Hawaii. In Hawaii, the base will be made of Spam. That's not at all true, but for a moment, you thought about giving it a try didn't you?
Sign up here for our daily Thrillist email and subscribe here for our YouTube channel to get your fix of the best in food/drink/fun.