Bask in These Photos of Last Night's Absurdly Beautiful Supermoon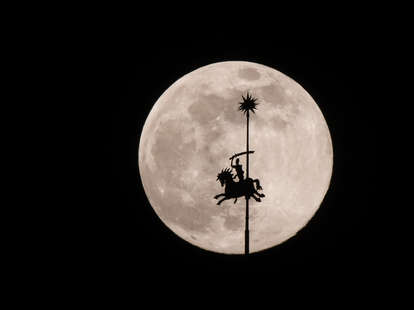 Artur Widak/NurPhoto/Getty Images
The world saw the biggest and brightest full moon we're expected to see this year on Tuesday night. It was a perigee-syzygy moon, more commonly known as a supermoon, and the photos captured all around the world by professionals and regular-degular Twitter users are breathtaking.
We spoke with photographer Eric Barberet, who captured a gorgeous shot of the supermoon and posted it to his photography page on Facebook.
Barberet shot the photo from his garden around 10pm local time in Auvergne-Rhône-Alpes region of France. He used a telescope and zoomed with a reflex camera (a camera he politely explained to me was just a digital camera that allows you to change lenses).
"Like the Nikon d7100," he said, which... sort of helped me understand. "It wasn't hard to shoot the supermoon. A lot of light."
Many other stunning shots are now circulating, so we put together some of our favorites:
Chaiwat Subprasom/SOPA Images/LightRocket/Getty Images
Gazing into space feels like getting reassuring advice from the wisest and most reasonable person in the world. Times may be tough, but the image of a gorgeous full moon blown up in our shared evening sky reminds us that there exists so much beauty beyond the here and now, a universe so vast and unimaginable that catching even a glimpse of its cosmic excellence is enough to briefly distract us from the troubles that would otherwise consume us.
Sign up here for our daily Thrillist email and subscribe here for our YouTube channel to get your fix of the best in food/drink/fun.