Do People Actually Watch 'Pizza Guy Porn'? Yeah, They Do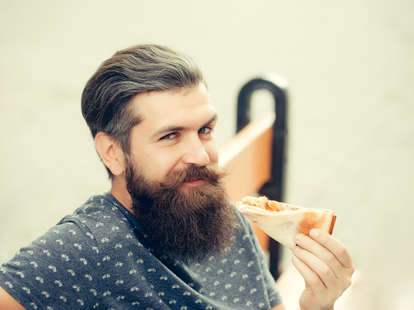 There are a few unassailable porn clichés that you have to assume went gone the way of the dodo. Those include the thick porno mustache, funky guitars run through a wah-wah pedal, and the pizza guy scene. The notion that someone actually searches for porn that starts with a guy delivering pizza to some lonely woman is absurd, except that it's not.
In fact, many thousands of people are regularly looking for that exact thing, according to new data shared by Pornhub for National Pizza Month. With almost 2,000 videos that contain "pizza" in the title, the site has those cheesy scenes users are looking for. According to Pornhub's data, searches containing the word pizza happen over half a million times a month.
The top searches for lovers of a floppy slice with their sex? "Pizza delivery," "big sausage pizza" (really?), "pizza boy," and "pizza delivery girl." Also ranking for some reason: "pizza that ass."
Pornhub also notes that some of the pizza searches are the result of a new trend of amateur videos where people surprise actual pizza guys by answering the door naked. (Which you definitely shouldn't be doing.) Searches believed to be related are "naked pizza dare," "flashing pizza guy," and "open door naked pizza."
Additionally, they note that hot deliveries are a constant favorite among porn consumers. Since 2013, searches involving pizza have remained mostly constant, until recently when there has been a large spike. Pornhub says that the spike was "likely caused by ads promoting a new pizza delivery video from a major studio."
The other trend inside the search data has been the steady rise of "pizza girl" as a search term, though it still doesn't compare to the classic "pizza boy" search.
Somehow, it feels as though, anecdotally, lovers of pizza porn might be older porn lovers who came up in the 70s and stuck with a classic formulation.
However, that's totally inaccurate. It appears the people looking for pizza porn are young. People aged 18 to 24 are 18 percent more likely to search porn than any other age group and interest appears to dwindle as viewers age.
Additionally, pizza porn viewers are largely men. Of course they are. Men who couldn't resist a good sausage pun.
As usual, there are a few interesting tidbits to be sussed out from seeing where the searches happen most often. Leading the charge in the U.S. are the states of Arizona, Utah, Ohio, Vermont, Minnesota, Connecticut, and California. Those with less interest in tomato sauce spattered sex include Maine, Oklahoma, North Carolina, Louisiana, and South Carolina.
So, as with many things, this is a cliché for a reason. Happy National Pizza Month.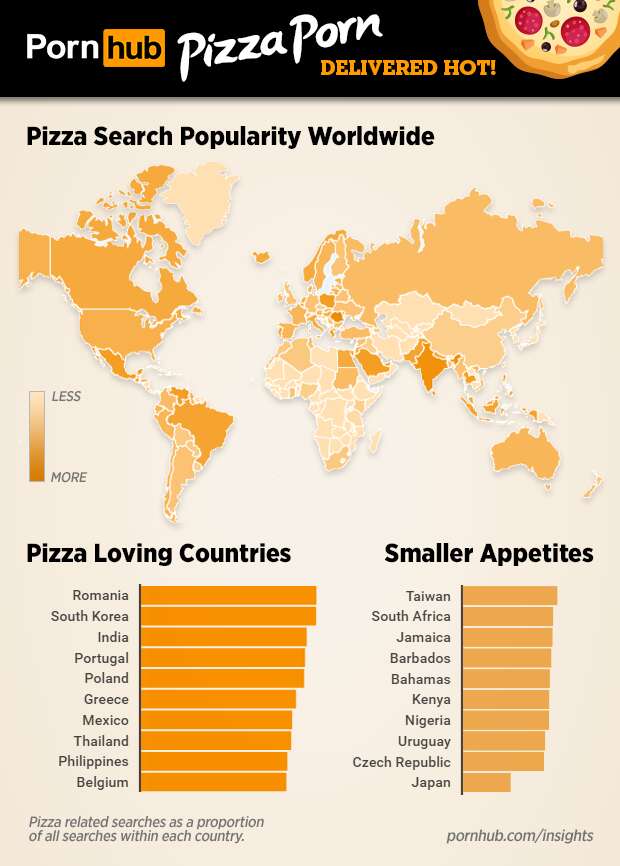 Sign up here for our daily Thrillist email, and get your fix of the best in food/drink/fun.
Dustin Nelson is a News Writer with Thrillist. He holds a Guinness World Record, but has never met the fingernail lady. He's written for Sports Illustrated, Men's Journal, The Rumpus, and other digital wonderlands. Follow him @dlukenelson.