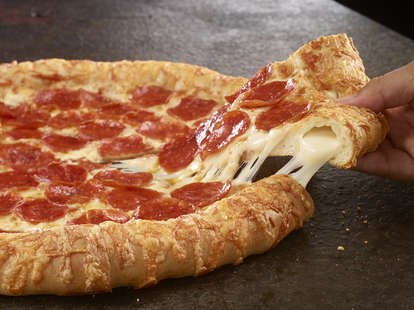 The $5 pizza war officially just gained another entrant -- and it's not a pie-slinger to be taken lightly.
Pizza Hut just launched its $5 Flavor Menu, right in time to destroy your New Year's resolution and waistline. But of course, not your budget! The deal page includes a smattering of items from across the Pizza Hut spectrum, including pizzas, desserts, and drinks. The full menu includes:
Medium 1-topping pizza
8 breaded bone-out Wingstreet® wings
Tuscani pasta
Hershey's® triple chocolate brownie
The ultimate Hershey's® chocolate chip cookie
Double order of breadsticks or flavor sticks
Four 20 oz Pepsi beverages
Now, as with all things cheap, there's a catch: you've gotta buy at least two things off the menu, meaning you'll have to drop $10. But 10 bones ain't that bad when you consider a medium pizza can feed an adult -- maybe even two! But not two if you're a hog. I am a hog.
Thrillist reached out to Pizza Hut's parent compnay, Yum! Brands, to find out if the $5 Flavor Menu is a temporary promotion, or a permanent addition to Pizza Hut's carb-heavy offerings. The $5 Flavor Menu comes into direct competition with Domino's successful $5.99 menu, and Little Caesars $5 Hot-N-Ready menu. Now all the big pizza chains are after your meager pizza budget except Papa John's. It seems only a matter of time.
But at least in this war, everyone gets cheap pizza, and not killed. Human history would be vastly better if wars simply involved lowering pizza prices.

Sign up here for our daily Thrillist email, and get your fix of the best in food/drink/fun.
Ryan Craggs is Thrillist's Senior News Editor. He's never eaten at Fig & Olive. But he does enjoy figs and olives. Sometimes even together. Follow him @ryanrcraggs.