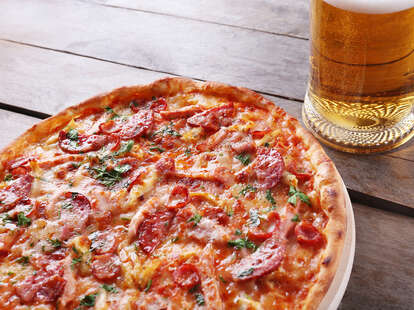 Pizza and beer. The two don't just go hand in hand, they go hand and hand -- meaning you'll likely have a slice of pizza in one hand and a beer in the other. And while you've already got the combo down to a science, it turns out Pizza Hut is working on a way to enjoy pizza and beer combined. And presumably in one hand.
Forming what's perhaps the most logical food hybrid ever (pizza-flavored beer is a close second), the new pizzas are made with a special craft beer-infused dough. As explained in a report by the Mirror newspaper, Pizza Hut plans to launch the two flavor options -- "The Steak Feast" and "The American Hot" -- in a tiny test market in the United Kingdom later this week. In fact, the only way to try the beer pizzas is to head to the one and only Pizza Hut location serving them in London on Friday before they run out.
Pizza Hut "chefs" and marketing execs, it seems, are well aware of the sacred marriage between pizza and beer -- or as you like to call it, Friday night.
"We know that craft beers are really popular right now and we're celebrating this not just by adding craft beers to our menus, but also by adding this to our pizza dough," Kath Austin, Director of HR and Marketing at Pizza Hut Restaurants, told the paper. "We also know that for many of our customers nothing beats enjoying their favourite pizza with an ice-cold beer, so we thought this would be the perfect culinary union."
You know what? They might just be onto something, folks. Now, they just have to figure out how to combine pizza and ice cream...
If the brief trial is successful (how the hell could it not be?), the company will roll out the beer pizzas nationwide, per the report. Obviously, we reached out to Pizza Hut seeking information on if and when these things will be available here in the US.
h/t Eater
Sign up here for our daily Thrillist email, and get your fix of the best in food/drink/fun.
Tony Merevick is Cities News Editor at Thrillist and would eat just about anything that's beer-infused at this point. Send news tips to news@thrillist.com and follow him on Twitter @tonymerevick.