Pizza Hut Will Give You a Free Triple Treat Box for Burning Your Holiday Dinner
It's a lose, win.
Courtesy of Pizza Hut
Courtesy of Pizza Hut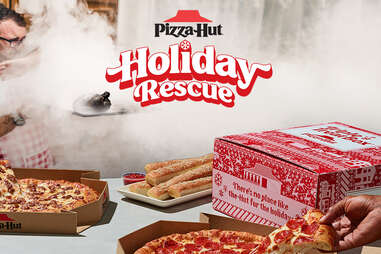 Between December 1 and December 24, if you're in a pinch thanks to a last-minute cooking snafu, simply send a photo to the chain's "holiday rescue line," pizzahut@hutholidayrescue.com. You could score the limited edition offering for $0.00.
After all, according to that same survey, 62% of people said they just wished they had ordered a pizza instead of prepping that big holiday meal. The Triple Treat Box features two medium, one-topping pizzas, five breadsticks, and 10 Cinnabon Mini Rolls. The holiday-themed box is typically priced at $24.99 and will only be available for a limited time.