Pizza Hut Is Making New Meat-Less Sausage Pizzas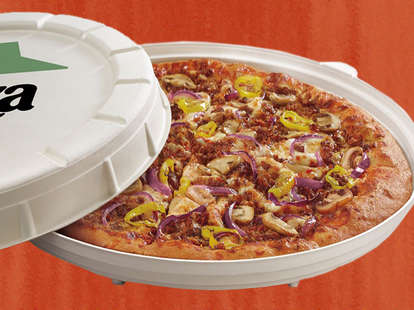 Edited - Courtesy of Pizza Hut
We've said it once and we'll say it again: Incogmeato is one helluva name for a plant-based meat brand. Corny, but admirable. That may be part of why Pizza Hut is partnering with Morningstar Farms, a subsidiary of Kellogg, to test out a Garden Specialty Pizza that features plant-based, 100% meat-free sausage from the punny brand.
"We innovate for human's sake and we'll win on taste -- PERIOD. At Pizza Hut we don't do anything halfway and improving the customer experience and delivering a better tasting pizza is our core mission," Marianne Radley, chief brand officer of Pizza Hut, said in a press release. "When we talk about feeding more possibilities we mean it -- and I can't wait to share these [...] industry-changing innovations with our customers."
The Garden Specialty Pizza includes onions, mushrooms, banana peppers, and Incogmeato "Italian sausage" all generously piled onto a hand-tossed Pizza Hut crust.
In addition to the new-vegetarian-friendly pizza, Pizza Hut is also testing out a new and more sustainable pizza box. The box, which has been in development for two years according to the brand, is round instead of square -- saving on packaging. The box is also compostable and snaps shut, ensuring pizza is delivered crisp and steamy.
Though these sustainable changes are very forward-thinking, both the round box and the Incogmeato pizza are so far only being tested in Phoenix, Arizona. Eaters who stop by the Pizza Hut in the Phoenix area -- the one on E. Thomas Road -- can snag the new pizza served up in the new round pizza box for $10. All proceeds raised from the Garden Specialty Pizza will be donated to Arizona Forward, a Phoenix-based organization committed to sustainability.
Pizza Hut has yet to share when these new innovations will make their way nationwide, but giving people options and taking the planet into consideration is definitely a step in the right direction in our book.
Sign up here for our daily Thrillist email and subscribe here for our YouTube channel to get your fix of the best in food/drink/fun.
Kat Thompson is a staff writer at Thrillist. Follow her on Twitter @katthompsonn.