We Tried Pizza Hut's New, 100% Meat-Free Sausage Pizza. Here's Our Verdict.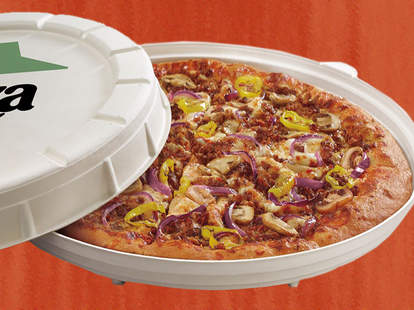 Edited - Courtesy of Pizza Hut
Plant-based "meats" are taking the fast food world by storm. Dunkin' announced just this week it's rolling out Beyond sausage sandwiches nationwide, KFC tested out vegetarian-friendly fried chicken, and, by our standards, White Castle has one of the best plant-based burgers out there with its Impossible slider.
It only makes sense that Pizza Hut would want to get a slice of the plant-based meat pie with its surprising new offering: the Garden Specialty Pizza, made with MorningStar's Incogmeato "Italian sausage." The fake meat pizza, which is currently only available as part of a test launch in Phoenix, Arizona, comes topped with red onions, mushrooms, and banana peppers. And I have to admit, after eating two slices of the vegetarian pizza, I was wildly impressed.
Did the "sausage" taste like actual... sausage?
Shockingly, yes.
If you bit into a slice of this pizza without knowing prior that the sausage isn't actually made from pork, you'd be as surprised as I was. While the "sausage" on its own is a little flat -- lacking the same fat, glistening oil, and juiciness of actual Italian sausage crumbles -- it really worked with all the elements of the pizza. It was peppery, salty, and genuinely tasted meaty, albeit a little more crumbly than the typical sausage chunks you'd find gracing a pizza.
Pair that salt and meatiness with the tang of banana peppers, gentle bite of red onions, and added vegetarian-friendly umami from mushrooms and you've got yourself a winning pie, especially if you have an aversion to meat.
Despite being a primarily plant-based pizza, I don't think this "garden" pie will be catered only to vegetarians. I'm a meat-eater myself, but I would order this just to cut down on my meat intake -- both for environmental and health purposes. It's forward-thinking that Pizza Hut is giving its customers options and considering its environmental impact.
How can I try my own "Incogmeato" pizza?
Unfortunately, as of now, the only place serving up the Garden Specialty Pizza is a Phoenix-based Pizza Hut. That being said, I wouldn't be surprised if Pizza Hut takes this test item and runs with it, seeing as the trend of plant-based fast food doesn't seem to be disappearing anytime soon.
Hopefully, with the encouragement from consumers, Pizza Hut will launch its incogmeato "sausage" topping soon, so we can customize our own veggie-friendly pizzas. I'm thinking a "sausage" and pineapple pizza will be terrific, as pineapple undoubtedly belongs on pizza despite whatever Gordon Ramsay says.
Sign up here for our daily Thrillist email and subscribe here for our YouTube channel to get your fix of the best in food/drink/fun.
Kat Thompson is a staff writer at Thrillist. Follow her on Twitter @katthompsonn.