Pizza Hut Sent a Kayak Full of Pizzas to Hurricane Harvey Victims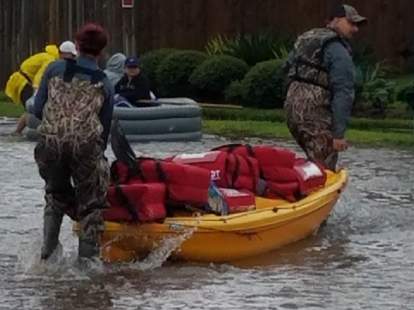 Sometimes pizza is more than just a delicious treat on a lazy Thursday night. In the wake of Hurricane Harvey, which has inundated much of Texas with unprecedented flooding and destruction, a local Pizza Hut franchise went above and beyond the normal remit of its duties by delivering pies to victims of the disaster with a roving kayak.  
Shayda Habib, the regional manager of the Pizza Hut chain in Sugar Land, Texas, summoned the help of her husband when she heard residents in the surrounding area were trapped inside their homes and running out of food. After gathering a few kayaks, Habib's husband showed up at the restaurant and the Pizza Hut crew quickly got to work making pizzas and loading them into the boats. Sure enough, the team waded through the murky water and rain, enduring the elements and providing pizza for those who needed it most.
Altogether, Habib's roving kayak fleet was manned by six employees and delivered 120 pizzas.
"The people in the houses didn't expect us to come. It was so nice to see their smiles after so much gloom," she told the Houston Chronicle. For Habib and her crew, however, the work is not done. She says she plans to deliver pies to people affected by the storm through Thursday, while relief efforts expand across the city.
Sign up here for our daily Thrillist email and subscribe here for our YouTube channel to get your fix of the best in food/drink/fun.
 
Sam Blum is a News Staff Writer for Thrillist. He's also a martial arts and music nerd who appreciates a fine sandwich and cute dogs. Find his clips in The Guardian, Rolling Stone, The A.V. Club and Esquire. He's on Twitter @Blumnessmonster.