Pizza Hut's Newest Pizza Has a Fried Mozzarella Popper-Stuffed Crust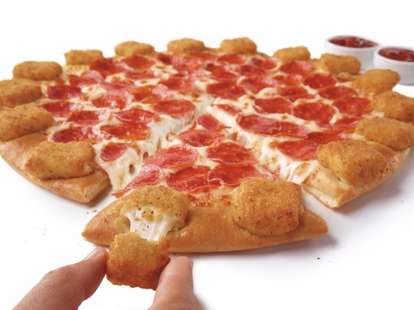 Pizza Hut has something of a penchant for innovative, over-the-top crusts. The chain has stuffed its pizza handles with extra cheese, garlic knots, and unfortunately, even hot dogs. Now, the Hut is delivering yet another outrageous (I mean that in the best way) creation.
On Monday, Pizza Hut announced the arrival of its Mozzarella Poppers Pizza. In case the name isn't a total give-away, it features 16 crispy mozzarella-filled squares baked right into the crust. Each mozz bite is seasoned with garlic, onion, parmesan, Italian seasoning, parsley, basil, and oregano. And according to the restaurant, it's the cheesiest Pizza Hut pizza yet.
"Mozzarella Poppers Pizza will be the first of many new craveable pizzas you can only get at Pizza Hut," Chief Brand Officer David Graves said in a statement. "From the original Stuffed Crust to our classic Ultimate Cheesy Crust, Pizza Hut has always led the category in innovation. Mozzarella Poppers Pizza is no exception. By putting one of America's favorite appetizers, the mozzarella stick, on the pizza, the team has created another craveable crust you can only get at Pizza Hut."
While an inordinate amount of cheese is enough to make you swoon, Pizza Hut has also got a heart-shaped pie for the real romantics out there. But whichever Valentine's Day route you go, the Mozzarella Poppers and Heart-Shaped Pizzas are both available for a limited time for delivery, carry-out, and dine-in.
Sign up here for our daily Thrillist email and subscribe here for our YouTube channel to get your fix of the best in food/drink/fun.
Megan Schaltegger is a staff writer at Thrillist. Follow her @MegSchaltegger.