Pizza Hut Wants to Give You Free Pizza During The Super Bowl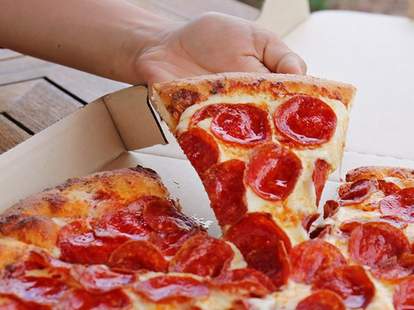 Another major sporting event brings another opportunity for free fast food. Just like Taco Bell gave out free tacos after the first stolen base of the World Series, Pizza Hut is using the Super Bowl as an excuse to shepherd you to the land of cheese and calories.
But the opportunity for a pie comes with a twist, as the company will only give out free pizza if a Super Bowl record is broken: Either the Philadelphia Eagles or New England Patriots need to score the fastest touchdown in Super Bowl history -- within the first 14 seconds of the game -- for the deal to work.
It sounds highly improbable, but the company provides some insights that might give you hope: "Since 2011, there have been 15 touchdowns scored in the first 14 seconds of a game, including regular season and playoffs," Pizza Hut writes in a press release.
The fastest TD in Super Bowl history was scored by Devin Hester of the Chicago Bears in Super Bowl XLI. It was a punt return from the opening kickoff, which means you better pray for a something similar.
To be eligible for the pizza, you have to sign up for the company's loyalty program, Hut Rewards. In the unlikely event a quick TD is notched, "Pizza Hut will deposit a free medium two-topping pizza into the accounts of Hut Reward members to be redeemed between Thursday, February 8 and Sunday, February 11." You have to sign up before February 4.
In reality, this is basically just a ploy to get millions of hungry and naive sports fans to sign up for Pizza Hut emails. But who knows!? Fireworks could erupt at the opening kick of the game, and it doesn't matter which team wins the coin toss and dashes into the end zone.
But face it, it'll definitely be the Eagles.
Sign up here for our daily Thrillist email and subscribe here for our YouTube channel to get your fix of the best in food/drink/fun.

Sam Blum is a News Staff Writer for Thrillist. He's also a martial arts and music nerd who appreciates a fine sandwich and cute dogs. Find his clips in The Guardian, Rolling Stone, The A.V. Club and Esquire. He's on Twitter @Blumnessmonster.