Pizza Hut's New Sneakers Can Order Pizza to Where You're Standing & Pause Your TV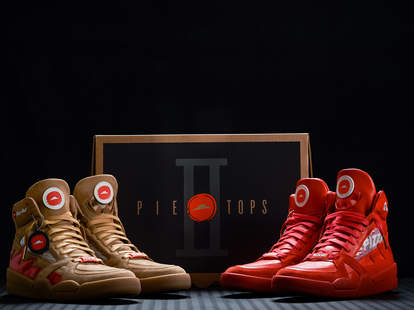 Sneakers and pizza are all about maximalism and mashing things together for their own sake, so it only makes sense to combine them. And that's exactly what Pizza Hut is doing. Pie Top Sneakers are back, and this year, they're somehow even more the most.
The Pie Top IIs are again being released to celebrate March Madness and Pizza Hut's second year as the NCAA's official pizza (it also recently became the NFL's official pizza), and they have special features to help you better enjoy your basketball-viewing experience and look more like a billboard than you ever thought possible.
Courtesy of Pizza Hut
These sneakers will not only order you pizza -- they'll also pause your TV. Built into the tongue of one shoe is a button that connects via Bluetooth to your phone and orders a Pizza Hut deal for two two-topping, medium pizzas for $5.99. The other shoe will pause the game so you won't miss a dribble while you receive your pizza. These sneakers won't answer the door for you -- but maybe next year? According to Fortune, they'll work with receivers from Spectrum, DirecTV, Xfinity, Dish, and Fios.
You can pick between red and wheat, and it's hard to say which is wilder. If you're looking for pizza shoes that will accentuate your outfit, look elsewhere; these shoes are the outfit... the pizza outfit... just to be clear, "pizza" is going to be written on the side of your shoes in big letters.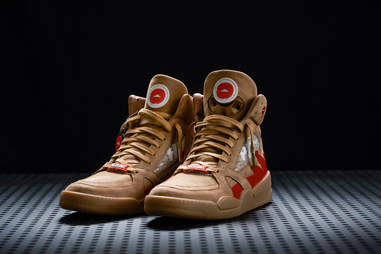 Courtesy of Pizza Hut
Like its forebearers, the Pie Tops II will receive an extremely limited run, partially because the Shoe Surgeon is custom-making each pair and partially because humanity frankly isn't responsible enough to handle mass-production. Just 50 pairs will be available for purchase through HBX on the week of March 19, and the price has yet to be announced. More shoes will be given away on social media, though, so you might have the chance to become a walking advertisement free of charge.
Sign up here for our daily Thrillist email and subscribe here for our YouTube channel to get your fix of the best in food/drink/fun.
 
James Chrisman is a News Writer at Thrillist who would like a pair of salad sneakers. Send news tips to news@thrillist.com and follow him on Twitter @james_chrisman2.