Pizza Hut's New Cheez-It 'Pizzas' Look Like Giant Cheez-Its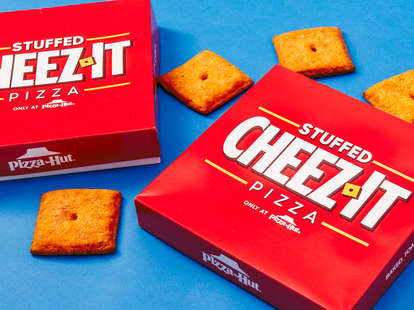 All my wildest stoner dreams are coming true. Pizza Hut announced on Tuesday that it has teamed up with Cheez-Its to unleash what's been dubbed as the Stuffed Cheez-It Pizza. This is no ordinary pizza. It's absolutely stuffed with cheese.
The Stuffed Cheez-It Pizza begins with the salty cheddar flavor we all know and love from the beloved baked crackers -- infused into a dough, then filled with your choice of cheese or pepperoniand cheese. The confusing part is that it's not... really a pizza? It doesn't have toppings and isn't sliced eight ways like a typical pie. It's also unclear whether or not the "pizza" is soft and gooey like a fresh-baked hand pie, or crispy with a flaky exterior similar to fried empanadas. Judging by the looks of it, this pizza-snack mashup should probably be called a calzone.
One order of the Cheez-It pizza comes with four squares, so sharing the cheese-filled pockets is easy (though if you don't share, we won't judge). An order also comes with a side of marinara sauce, so you can have a flavor other than cheese conquering your tastebuds. The Stuffed Cheez-It Pizza clocks in at $6.49 and it's available at Pizza Hut locations nationwide, but only for a little while.
Now that we've gotten the cheesiest mash-up we never knew we needed out of the way, can we get a White Cheddar -- arguably the best iteration of Cheez-Its -- or Hot & Spicy-flavored stuffed "pizza," too? Thanks.
Sign up here for our daily Thrillist email and subscribe here for our YouTube channel to get your fix of the best in food/drink/fun.
Kat Thompson is a staff writer at Thrillist. Follow her on Twitter @katthompsonn.