Pizza Hut Just Brought Back Stuffed Garlic Knots Pizza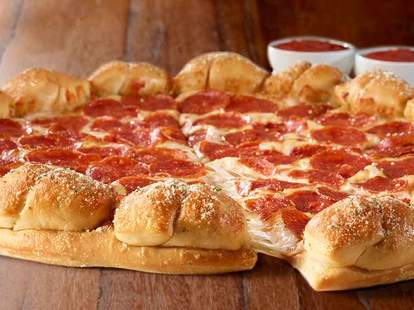 You know that old saying, "don't mess with perfection?" Well, it's a lie. I once associated the phrase with pizza (I was a classic slice kinda gal), but that all changed when Pizza Hut unleashed its Stuffed Garlic Knot pie a few years back. Now, for the first time since its 2016 debut, the fan-favorite is making its triumphant return to menus.
If you're of the former camp (aka the "plain cheese, please" gang), just listen. This is a pizza... with 16 buttery, parmesan-stuffed garlic knots... baked right into the crust. It doesn't get much better than this, my friends. The large one-topping pizza comes with two cups of marinara for necessary dipping purposes and only costs $12.99.
"From bold flavors and Only from Pizza Hut innovations to new store concepts and signature re-launches, we're blending nostalgia and modernization to showcase our past and highlight our future," Chief Brand Officer Marianne Radley said in a statement. "As we close out the year, we're bringing back a classic before the holidays with the return of the Stuffed Garlic Knots Pizza and all that gooey cheesiness we know our customers love."
This actually isn't the first appetizer-crusted pie to land on menus this year. The Cheesy Bites Pizza is back, too. So yeah, all my 2020 New Year's resolutions are already out the window. Sorry.
Pizza Hut said the Stuffed Garlic Knots Pizza will be available nationwide only for a little while via delivery, carryout, and dine-in.
Sign up here for our daily Thrillist email and subscribe here for our YouTube channel to get your fix of the best in food/drink/fun.