Pizza Hut Will Pay You $50K to Travel, Party and Eat Pizza at Every NCAA Championship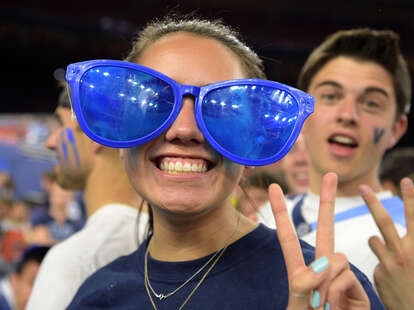 Getty Images
Getty Images
If you already intend to spend tons of time watching college sports and eating pizza this season like it's your damn job, then you might as well get paid for it. Well, now you can, thanks to an actual job available at Pizza Hut that'll pay you $50,000 to travel across the country for NCAA Championship games, post about them on social media, and presumably eat an endless supply of Pizza Hut pizza while you're at it. Yes, this is real.
Pizza Hut announced this week that it is seeking candidates for its new "Pizza Hut All-American" full-time job, which the company said will send one college sports fan on an "epic adventure" to dozens of Division I NCAA championship games all across the country during the 2016-17 season. As the All-American, you'll be expected to document your experiences on social media as you travel from city to city for the games, according to the official job description. You'll get "unparalleled access" to all of the NCAA Championships and, perhaps best of all, you'll get a $50,000 salary. Oh, and since it's Pizza Hut, you'll probably have access to unlimited pizza while you're at it.
Pizza Hut said the ideal candidate is social media savvy, has a passion for all NCAA sports, and has a experience in creating great content for social media.
"The right candidate will be outgoing, enthusiastic and eager to share his/her journey with fans," the job description states. "He/she have a proven track record of creating great content, with a detailed understanding of Facebook, Twitter, Instagram and Snapchat. The All-American should be ready to roll at all times and able to professionally handle everything from a live media interview to a Facebook Live broadcast."
To apply for the pizza-fueled college sports adventure, all you have to do is fill out a questionnaire on Pizza Hut's official application page, where you'll also be able to attach your resume and an optional video clip explaining why you're a big enough sports and pizza fan to get the job. The deadline for applications is November 6th, according to the company's website, which also notes that you must be at least 21 years-old and a US resident to be eligible. The job will last from November 14, 2016 through June 30, 2017.
So, if you're a huge sports fan, love pizza and traveling, and don't mind working as as a social media editor of sorts with pretty decent pay, then you might want to start updating resume now. It's probably worth it for the "Pizza Hut All-American" job title alone.
Sign up here for our daily Thrillist email, and get your fix of the best in food/drink/fun.
Tony Merevick is Cities News Editor at Thrillist and would totally be into this if he were remotely interested in college sports. Send news tips to news@thrillist.com and follow him on Twitter @tonymerevick.