Here's How You Can Send Healthcare Workers Free Pizzas & Support Local Restaurants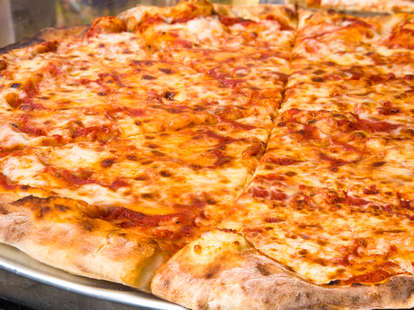 At this point, we're all (hopefully) aware of the important and selfless work healthcare professionals are performing at hospitals across the United States (and, really, the world). The thing everyone can do to thank them is to stay home as much as possible. But that can feel a little anticlimactic, even though it can certainly be hard. If you want a tangible way to thank them for their work in addition to social distancing, a group of organizations has devised a way that can be done while simultaneously supporting local businesses.
Slice, an app that connects you with local pizza shops, has partnered with Slice Out Hunger and Pizza to Polls for a project called Pizza vs. Pandemic. It has arranged for thousands of pizzas to go from independent pizzerias to "workers at care centers, hospitals, clinics, shelters," and other hubs where people are helping fight the COVID-19 pandemic.
"We have a responsibility to our communities. With a network of over 12,000 neighborhood restaurants serving food that can serve a lot of people, we knew that we could help," Ilir Sela, founder and CEO of Slice, told Thrillist. "By launching Pizza vs. Pandemic... we are able to not only offer critical support to the tireless care workers at the front line of the coronavirus but also to provide much-needed business for our small business restaurant partners who are struggling right now."
The organization takes donations to arrange deliveries "in the greatest areas of need." Additionally, Slice is vetting pizzerias to ensure the local shops being used are following best practices and that there's coordination between the two sides about the safest means of delivery. If you know somewhere that could use a pizza to power them through a long day, @SliceOutHunger is taking suggestions on Twitter.
In addition to thanking healthcare professionals working long, long hours, you're helping support local restaurants that are struggling through in almost every community in the country. As of March 25, Pizza vs. Pandemic had already delivered more than 1,700 pizzas.
Sign up here for our daily Thrillist email and subscribe here for our YouTube channel to get your fix of the best in food/drink/fun.