Planters Has Unleashed Cheez Ball Dust So You Can Put Fluorescent Cheese on Everything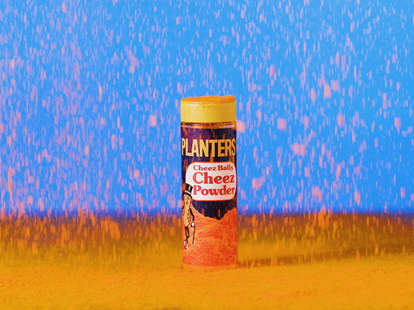 If you ever felt the food in your life could be cheesier, perhaps even more neon orange, then fret no more. Planters -- the folks behind the beloved cannister of Cheez Balls that were mournfully discontinued, then brought back, then discontinued again, only to be brought back permanently now -- is releasing Cheez Powder for the 'cheez' enthusiast in your life.
Finally, you can douse everything in your life with fluorescent orange Cheez, including ice cream.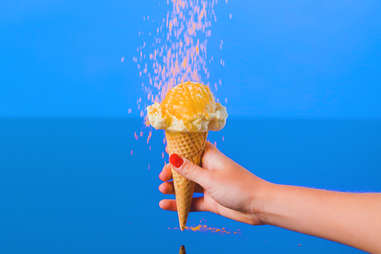 As mentioned, the arrival of the cheesy dust is a celebration of the permanent return of Cheez Balls.
"After seeing fans' excitement last year when Cheez Balls returned, we knew we had to find a way for Cheez Balls to stay," Samantha Hess, brand manager for PLANTERS, said in a press release. "To celebrate Cheez Balls being back, we're giving fans more of the iconic flavor they're obsessed with so they can enjoy the cheezy flavor on any food."
Fans -- 350 of them, to be exact -- can win their very own cheez shaker by tweeting @MRPEANUT with their favorite foods they'll top with the glowing orange powder and hash tagging it with #CheezBallContest.
Grieving the cheesy spheres is a thing of the past; instead, look to the future of all the things you can do with cheez powder. This includes -- but is not limited to -- sprinkling powder on a grilled cheese for an extra cheesy sandwich, dusting popcorn with cheese, and adding cheese flavoring to every sauce and spread in your life. By all means make it rain cheese on every edible surface. We won't judge.
Sign up here for our daily Thrillist email and subscribe here for our YouTube channel to get your fix of the best in food/drink/fun.
Kat Thompson is a staff writer at Thrillist. Follow her on Twitter @katthompsonn.