Pokémon Go Is Officially More Popular Than Porn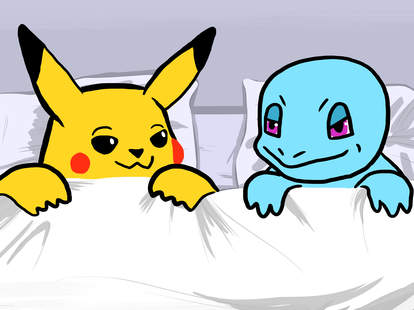 By now, there's a strong chance you've heard -- and probably contributed to -- how insanely huge Pokémon Go is. In the days since it launched, it's already eclipsed Tinder, rivaled Twitter, and now, it looks like the nostalgia-inducing cartoon game is generating more interest than what's easily the most popular things on the whole damn internet: porn. 
According to Google Trends data, search volume for Pokémon Go has significantly outpaced searches for porn over the last few days, which means there are now more people looking up how to find a Squirtle than there are, uh, well you get the picture. Then again, Jynxis pretty attractive, Diglett is sort of suggestive, and "Poké Balls" just sounds downright NSFW.
Here's the Google Trends chart showing the huge surge in Pokémon Go searches (blue) versus searches for porn (red):
And while you may think it sounds Farfetch'd (sorry not sorry), it appears as if Google searches for "porn" have actually decreased amid Pokémon Go's growing popularity, meaning people could very well be more captivated by Jigglypuff than, erm, jiggly other things. Crazy, right?
But this is not to say that people are ditching porn in their quest to catch 'em all. Some people, it seems, are hoping to do a bit of both, according to new data from Pornhub. The world's largest online porn network, said it has seen a whopping 136% increase in daily Pokémon-related porn searches since Monday. The site also claims men are 62% more likely to search for Pokémon porn than women and users who are 18-24 years-old are 336% more likely to search for it than other age groups. 
Pornhub even created a graph to show the dramatic increase:
Anyway, just remember to play safely and responsibly -- regardless of what you're playing with.
Sign up here for our daily Thrillist email, and get your fix of the best in food/drink/fun.
Tony Merevick is Cities News Editor at Thrillist and has not watched a Pokémon-themed porn video. Yet. Send news tips to news@thrillist.com and follow him on Twitter @tonymerevick.