Police Ask for Volunteers to Drink to Excess on the City's Dime, Get 'Overwhelming Response'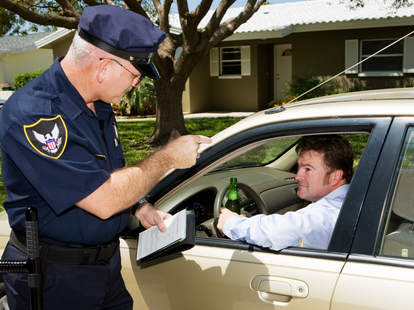 Traditionally, police are not pleased to see you when you've been over-imbibing. They, like the mother in Mean Girls, would rather you did it in the house. But the exception that proves the rule took place in Kutztown, Pennsylvania this week: Police were actually offering to overserve people. And it wasn't even an elaborate ruse.
The department put out a call on Facebook on Wednesday for three volunteers to help train officers in administering field sobriety tests. To do this, the volunteers would drink a whole lot on the city's dime.
The response was, well, enthusiastic.
By Thursday, an update was added to the post: "THANK YOU ALL FOR YOUR INTEREST IN HELPING US OUT! WE HAVE HAD AN OVERWHELMING RESPONSE FOR THIS AND AT THIS POINT WE HAVE ENOUGH VOLUNTEERS FOR THIS TRAINING! THOSE WHO ARE SELECTED WILL BE CONTACTED BY CHIEF SUMMERS!"
It's possible that the capitalization was added to make it stand out as an edit, but the caps lock along with the exclamation points make the whole thing read as a bit frantic. As of now, it has over 2,000 shares and over 1,000 comments. That's interesting given that NPR reports that the borough has just 5,000 residents. 
To be clear, not just anyone could show up. There were a few requirements:
"1. Be in good health between the ages of 25 and 40 with no history of drug or alcohol abuse
2. Clean criminal history 
3. Be willing to drink hard liquor to the point of inebriation 
4. Sign a waiver releasing the Borough of Kutztown of any liability
5. Have a sober/responsible party take care and control after the training."
The tests won't take place until April. In the meantime, congrats to the lucky winners of this contest!
h/t NPR

Sign up here for our daily Thrillist email and subscribe here for our YouTube channel to get your fix of the best in food/drink/fun.