Silly Rabbit, This Trix & Skittles Beer Is Definitely for Adults
Pontoon Brewing / Alexis Zamlich/Thrillist
It may not seem like it at first glance, but the combination of cereal and beer – not just cereal grains, but breakfast cereal – is well-worn territory. But Georgia's Pontoon Brewing Company is taking the pairing to sugary new heights, even beyond Smartmouth Brewing's Lucky Charms-inspired beer it released for eager and curious drinkers in 2019.
On February 7, the Sandy Springs-based brewery will release Rainbow Smiggles, a Berliner Weisse loaded with Trix cereal and Skittles that would make Homer Simpson proud. It's the brewery's third collaboration with Sprayberry Bottle Shop and is based on a sour recipe already in use by Pontoon. Of course, there's far more to the beer than the brightly colored headline grabbers. It also features strawberries, pineapple, vanilla, and lactose, in addition to the essentials.
Courtesy of Pontoon Brewing
"We're trying to keep the market well-provided with interesting new flavors month after month," says Chris Baratz, head brewer at Pontoon Brewing. "Because of that, we like to push the limits and go to extremes to keep the brewers and customers excited about each new sour."
The beer will be available through the brewery and Sprayberry starting February 7. It will roll out to other parts of Pontoon's market early in the month. Best of all, the can art is a real keeper. It features some Gravity Falls-esque rainbow vomiting along with a couple of children with ill intent. It's something else.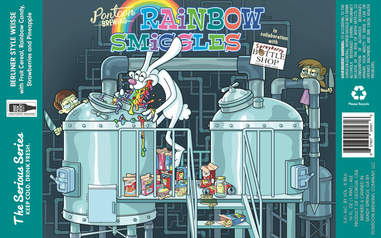 Courtesy of Pontoon Brewing
Sign up here for our daily Thrillist email and subscribe here for our YouTube channel to get your fix of the best in food/drink/fun.