Kellogg's Just Added 2 Sweet & Savory Pretzel Pop-Tarts Flavors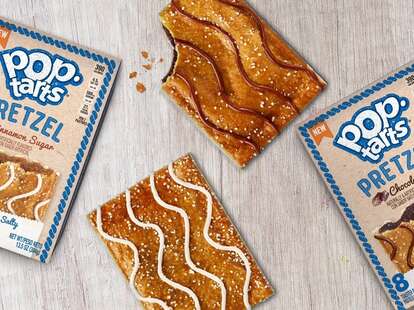 My Pop-Tarts preference is specific. Of the 20 plus flavors on store shelves, I choose the classic Frosted Strawberry every single time. Or rather, I did. Yes, as in past tense. The packed pastry purveyor just unveiled its latest creation: a toaster pastry-pretzel hybrid. Now I have no choice but to realign my flavor loyalties.
On Tuesday, Kellogg's announced the arrival of its Chocolate and Cinnamon Sugar Pop-Tarts Pretzel and it could very well be the sweet and salty breakfast we didn't know we needed.
"Pop-Tarts is always ingeniously creating new ways to enjoy familiar, loved foods," Marketing Director Joe Beauprez said in a statement. "With the debut of Pop-Tarts Pretzel, we've fixed a snacking staple, and added two more delicious options to our line-up of flavors."
These babies are hitting store shelves nationwide in January 2020 for a suggested retail price of $3.49, but according to the official Pop-Tarts Twitter account, rollout will actually begin next month.
Reactions to the new flavors, however, have been mixed: "You guys are mad. Mad geniuses," one user wrote. "GAME. CHANGING." another praised. Naturally, though, the internet has its skeptics: "Are you guys drunk?," "delete this," and "is this a joke?" others added. But whatever, just means more for us.
h/t Delish
Sign up here for our daily Thrillist email and subscribe here for our YouTube channel to get your fix of the best in food/drink/fun.
Megan Schaltegger is a staff writer at Thrillist. Follow her @MegSchaltegger.