Pop-Tarts Is Celebrating Pride with a New Flavor & Limited-Edition Box
Artist Thaddeus Coates is behind the bright and inspiring box design.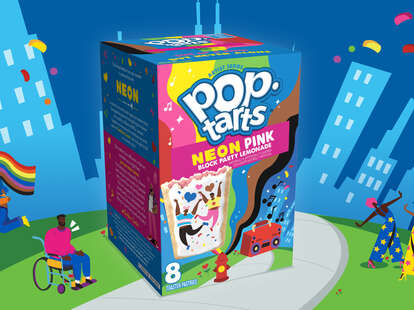 One of everyone's favorite childhood toaster pastry brands is celebrating Pride month this June in a big way. Pop-Tarts is debuting a Pride-themed box and flavor for the first time—Neon Pink Block Party Lemonade.
As the name suggests, the new flavor is a balance of sweet and sour, with a tangy pink lemonade-flavored filling inside the traditional flaky Pop-Tarts crust, topped with tasty frosting. The new flavor won't be the only thing that catches your attention, however.
The limited-edition box features colorful designs from illustrator Thaddeus Coates. The packaging was created in partnership with NEONxGLAAD, a collective of artists and ingenious creators that use storytelling to increase the visibility of Black LGBTQ+ people.
The artwork on the box embodies the theme of "One of A Kind, But Never Alone" and "illustrates the joy found within LGBTQ+ and BIPOC chosen families," according to a Pop-Tarts press release. Coates also added, "The art is inspired by a summer block party and celebrates a community that doesn't prioritize fitting in over living authentically."
Because these are limited-edition boxes, Pop-Tarts will only be dropping 450 Neon Pink Block Party Lemonade boxes each Friday of June. Fans can purchase the boxes for $5 a pop through the Pop-Tarts Instagram shop. Pop-Tarts isn't done yet, though. The iconic breakfast brand will be spotlighting four LGBTQ+ and BIPOC partner organizations that will receive a 10K grant each and $2,250 in connection with the box sales to help continue their mission toward fostering inclusive communities.
Janae Price is a News Staff Writer at Thrillist. She's a native New Yorker and loves all things cheese, K-pop, and culture. Follow her on Instagram and Twitter @janae_larie.