Pop-Tarts Is Calling Out People on Twitter for Making Gross Pop-Tart Sandwiches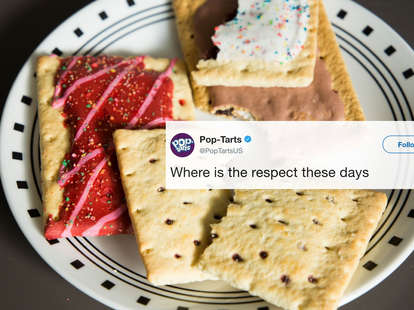 edited - sarah anderson/thrillist
As an informed citizen, you're well aware that a few weeks ago a student at Iowa State University set the internet aflame when he posted a picture of a single slice of American cheese sandwiched between two Pop-Tarts. The photo's caption read, "You ain't from Iowa if you never had one of these." Decent Americans were upset. Iowans defended their state's honor. The police got involved.
The only parties not participating in the debate seemed to be Cornel West and the Pop-Tarts brand itself. In the ensuing weeks, however, using Pop-Tarts to make disgusting sandwiches became a proper meme, and states all around the Union got their own revolting twist on "You ain't from X if you never had one of these." Apparently, the company could bear it no longer. In the last week, Pop-Tarts has started standing up for what's right and speaking out against these crimes against breakfast.
First up is Alaska, with what seems to be a fish & Brown Sugar Cinnamon Pop-Tart sandwich.
Next, the Philly cheesesteak was degraded with processed strawberry filling.
We're not even sure if Arizona and ketchup have any particular link, but we're pretty positive this wasn't a pleasant dining experience.
This bacon, egg, cheese, and strawberry Pop-Tart sandwich is supposed to represent all of the South (and honestly might not be that bad?).
Finally, Ohio came through with a logical flavor combination and an endorsement from the brand itself.
Sign up here for our daily Thrillist email and subscribe here for our YouTube channel to get your fix of the best in food/drink/fun.