Pope Francis Correctly Thinks Pappy Van Winkle Is 'Very Good' Bourbon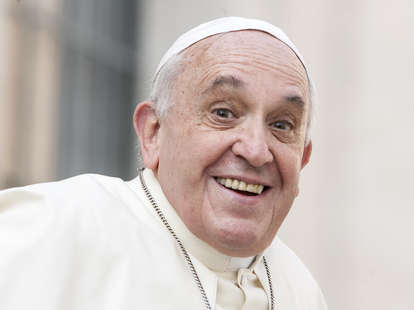 When he's not serving as impromptu marriage officiant at 35,000 feet or throwing giant pizza parties for his birthday, Pope Francis apparently likes to let his vestments down a bit with some good ol' brown liquor. At least that's what one might infer after the pontiff was gifted a 23-year-old bottle of Pappy Van Winkle by a visiting priest at The Vatican, and not only immediately recognized what it was, but quickly proclaimed that it is "very good" bourbon.
Evidently, His Holiness has good taste.
During a visit to The Vatican last week, Father Jim Sichko, a priest from the Dioceses of Lexington, Kentucky, had the opportunity to meet Pope Francis privately, and he seized the moment to pass along a special gift from home. While greeting the pontiff, Sichko pulled out a bottle of rare 23-year-old Pappy Van Winkle Bourbon, often considered some of the best brown booze in the world (and subsequently, also one of the most expensive, fetching hundreds of dollars on the open market). Pope Francis reacted as any true fan of bourbon would, by describing it as "very good bourbon" the moment Father Sichko handed it over. Very good indeed, Pope.
"He knew I was from Kentucky," Sichko said, per a report in the Lexington Herald Leader, "so when I handed it to him, he immediately said 'bourbon' and I said yes, and then he said 'very good bourbon.'"
Father Sichko was able to get his hands on the rare bottle thanks to a friend who is personal friends with proprietor Julian Van Winkle. The priest ended up texting Van Winkle the photos of His Holiness receiving the bottle, to which he responded "Grazie, Father Jim, very cool. .... Well, we sure don't need the publicity (not enough product) but this is awesome!!" Sichko also brought along quite a bounty of other bourbon bottles for his visit. He packed at least 10, including some Four Roses, Knob Creek, and Woodford Reserve in addition to the Pappys to hand off as gifts for the Pope's security detail and other Catholic officials.
This was actually Sichko's second time meeting Pope Francis at The Vatican, though it's hard to believe his offerings of top-notch bourbon will do anything but up the odds that he'll get a third invite.
h/tFood & Wine
Sign up here for our daily Thrillist email and subscribe here for our YouTube channel to get your fix of the best in food/drink/fun.