We Tried Popeyes' New BBQ Chicken Sandwich to See if It's as Good as the Original
The chain is currently testing the all-new sandwich at locations in Denver, Colorado.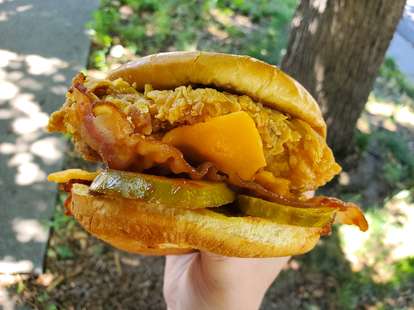 Remember way back in 2019, when times were simpler, "social distancing" wasn't a term anyone used, and headlines were dominated by a fried chicken sandwich instead of a pandemic? Well, Popeyes is back at it. At select locations in the Denver, Colorado area, the fast food chain is testing a new version of its viral (the good kind!) sandwich hit: the BBQ Bacon Cheddar Chicken Sandwich. But will this new take inspire the passion of the OG? I tracked it down to find out.
After a quick call to the closest Popeyes location, I struck golden fried success. They did indeed have the new chicken sandwich on the menu, so I set off for the drive-thru with high expectations. Part of the appeal of the original Popeyes sandwich is the low price -- only $3.99. With all its extras, the new BBQ version comes at a premium. I paid $5.49 (before tax) for the sandwich alone, though that's still less than most fast food fried chicken sandos.
Like the original, this sandwich sports a sizable piece of fried chicken breast with Popeyes' signature Louisiana seasonings and the same thick cut pickles on a buttered brioche bun. So far, so good. But instead of the standard mayo, the bun is doused with sweet and slightly spicy BBQ on both sides. If you've ever had Popeyes' BBQ dipping sauce, it tastes very similar (and may, if fact, be exactly the same sauce). The flavor of the sauce is strong, so much so that it overwhelms the chicken's seasoning and the toasted butteriness of the bun.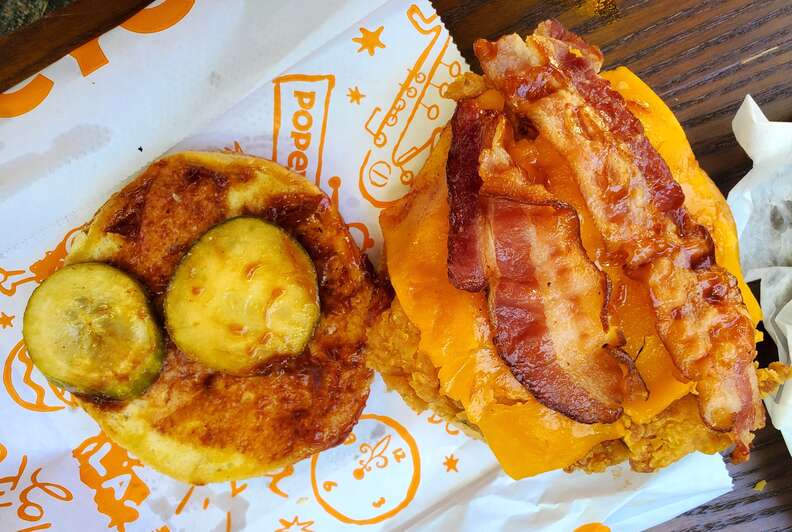 What about the bacon and cheddar?
That's exactly what I wondered after my first bite... only to discover that the Popeyes I visited had failed to actually add those two ingredients. So I went back to the drive-thru for a second try. This time, I found the bright orange slice of cheddar and two small strips of bacon present and accounted for. I bit in and, well, it tasted exactly the same as the first one. Did they forget to add it again? Nope. Turns out they just don't stand a chance against all that BBQ sauce.
The cheddar slice is thin and has a barely detectable cheese flavor even when eaten alone. And instead of melty, it got crumbly on the hot piece of chicken. The bacon was thin too, and scored solid zeros in terms of both crispiness and flavor. Nothing else on Popeyes' menu has cheddar or bacon, so they brought in these ingredients exclusively for this sandwich. But their quality doesn't live up to the chicken itself. The dominating flavor was that super-sweet sauce.
Final thoughts
Look, the Popeye's chicken sandwich is still a thing of grease laden beauty -- we ranked it No. 1 for good reason. So this version wasn't exactly bad (that's probably not possible). But much like the rest of 2020, it was disappointing. If you really love the flavor of BBQ sauce, you'd be better off saving the extra $1.50 and ordering the original chicken sandwich sans mayo and asking for packets of BBQ dipping sauce on the side. Or better yet, slather the chain's Mardi Gras Mustard on there (trust me, I've taste tested that thoroughly).
Sign up here for our daily Thrillist email and subscribe here for our YouTube channel to get your fix of the best in food/drink/fun.
Molly Martin is a Denver-based freelance writer who always orders chicken sandwiches with extra pickles. Follow her @mollydbu on Instagram and Twitter for more updates on food, fun, and life in the Mile High.