Popeyes Is Offering Free Chicken Sandwiches for 10 Days & You Can Get Its New One
You can grab a Blackened Chicken Sandwich on the house.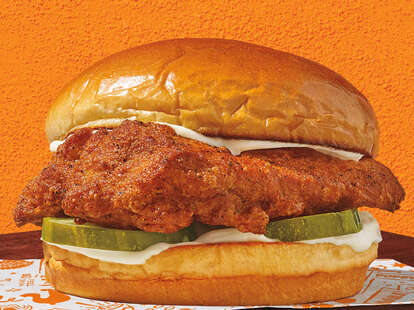 Years after its release, Popeyes Chicken Sandwich remains one of the best chicken sandwiches in fast food. So, people get excited on the rare occasions when a new one hits the menu. That happened this month with the release of the chain's new Blackened Chicken Sandwich.
To celebrate its release, Popeyes is calling this week's shopping holiday Blackened Friday. You can probably figure out what comes next. Popeyes is offering a deal that can land you a free Chicken Sandwich anytime from November 25 to December 4. If you're a completionist, you'll be able to use that freebie on the new sandwich.
Order any Chicken Sandwich combo through the Popeyes app or website, and you'll get to add a free Chicken Sandwich to that order. You will get to pick which one you want, the original, the Spicy Chicken Sandwich, or the Blackened Chicken Sandwich. That offer stands for ten days starting on Black Friday.
If you're intrigued, the Blackened Chicken Sandwich varies from the original because it is breading-free. The chicken breast is marinated for 12 hours and seasoned in "cajun and creole spices" before getting dropped onto a brioche bun with mayo and pickles. It is already getting positive reviews.