Popeyes Has New Bourbon Fudge Pie to Go With Your Sandwich & We Tasted It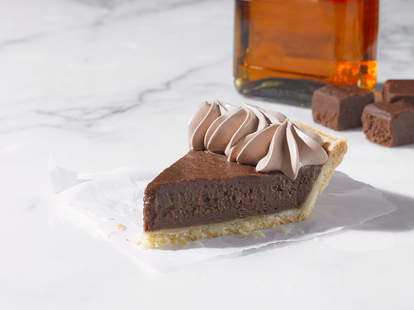 Chocolate is a healing ingredient. It's rich and creamy, like velvet on your tongue and is always an appropriate food to cap off a meal. Popeyes is using this truth to its advantage with the launch of a brand-new pie that's perfect for pre-Thanksgiving snack decadence: Bourbon Fudge Pie. Alongside the newly rereleased Pumpkin Cream Cheese Pie, Popeyes is taking dessert almost as seriously as its chicken sandwich mania.
The pie begins with a flaky pastry casing and is filled with thick chocolate bourbon fudge. It's not a boozy as one may think; the chocolate is definitely the more forward flavor while the oak of the Bourbon is a lingering afterthought. Each slice is topped with mousse-like chocolate whipped cream that tastes akin to Snack Pack pudding cups -- and I mean that as a compliment.
That being said, the chocolate does get overwhelmingly sweet partway through consumption. I love chocolate as much as the next person, but there's no real reprieve from the all-encompassing flavor of fudge. The whipped topping is sweet, the fudge filling is eventually cloying, and the pastry crust only delivers butter. I think if there was flakes of sea salt on top, or a saltier butter used in the crust, the overall flavor could be improved. However, if you're a big fan of chocolate and bourbon and don't envision yourself ever getting upset about chocolate overload, then this pie may be just for you.
Like most good things in fast food, the new Bourbon Fudge Pie is a limited time offering. A slice of this chocolaty concoction will cost you $2.49, and it's an ideal way to finish off your chicken sandwich meal. Better yet, get a bunch of slices to complete Thanksgiving, alongside your Popeyes turkey.
Sign up here for our daily Thrillist email and subscribe here for our YouTube channel to get your fix of the best in food/drink/fun.
Kat Thompson is a staff writer at Thrillist. Follow her on Twitter @katthompsonn.