Popeyes Just Debuted New $5 Buffalo Ranch Chicken Tenders
The best chicken sandwich in the game has some new competition from within.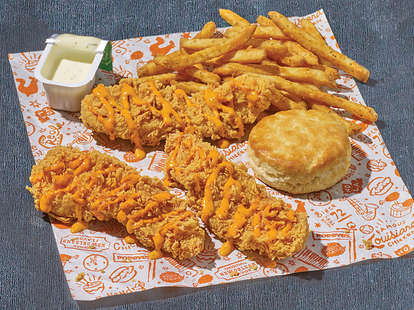 We've already settled the great chicken sandwich debate. In our book, Popeyes is the unequivocal champ. But just because we can't shut up about the Fasties award winner, doesn't mean it's the only menu item worth ordering. Especially now that the fast food chain has debuted chicken tenders smothered in buffalo sauce and ranch dressing.
Popeyes has taken its OG fried chicken strips and given them a major upgrade. The brand-new buffalo ranch tenders -- which are only $5 -- are seasoned with the chain's iconic Louisiana recipe, then drizzled with buffalo ranch sauce, and served with more buttermilk ranch for dipping.
As if that weren't enough to warrant an order, the chicken tenders come with a side of your choice and biscuit -- and it it'll only cost you a Lincoln (the paper kind, to be clear).
Though you can still snag the menu addition via delivery, pickup, and drive-thru, dine-in service remains limited in parts of the country. For locations that have begun the reopening process, parent company Restaurant Brands International has outlined what eating inside Popeyes will look like in this COVID-19 era.
"We are now moving into the next phase of reopening dining rooms according to guidance from local authorities, RBI CEO Jose Cil said in an open letter last week. "We have fully embraced the notion that parts of our restaurants need to change -- certainly, for the foreseeable future and possibly forever."
According to Cil, reusable masks, acrylic shields, and contactless service will be the norm.
"We are maintaining a 'safe distance' rule in our dining rooms -- whether communities require it or not," he continued. "We have designed beautiful tabletop signage to indicate which tables are open and which ones are reserved to help maintain safe distances. We will be sanitizing tables and chairs after each use and will have hand sanitizer available in the dining room for our guests. We have turned off our self-serve soda fountains and are offering beverages, extra condiments and trays from the behind the front counter."
Sign up here for our daily Thrillist email and subscribe here for our YouTube channel to get your fix of the best in food/drink/fun.
Megan Schaltegger is a staff writer at Thrillist.