Popeyes Chicken Sandwich Mania Has Finally Died Down, Sales Have 'Stabilized'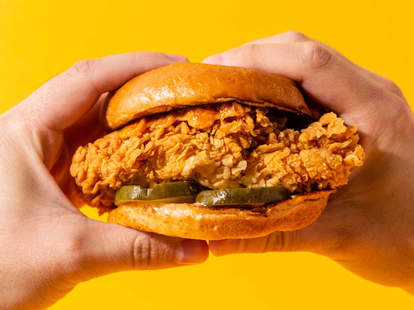 For the last few months of 2019, the Popeyes Chicken Sandwich was admittedly all we thought about, talked about, and craved. But now, mere weeks into the new year, it looks as if the mania has at least in part subsided. Sales of the record-breaking sandwich, as well as Burger King's popular Impossible Whopper, have reportedly "stabilized." 
CEO Dan Accordino of Carrols Restaurant Group, which owns over 1,000 Popeyes and Burger King locations, recently said at the ICR Conference that average daily orders for both the fried chicken sandwich and plant-based Whopper have decreased -- with the latter down from 32 to 28 a day. The upside? It's not quite so difficult to get your hands on the year's most buzzed about menu items. 
In case you forgot, the Popeyes Chicken Sandwich in particular caused quite the craze -- fights broke out, lawsuits were filed, shortages happened. Locations were selling upwards of 1,000 orders a day. The Takeout reports the king of southern fried chicken saw fourth-quarter same-store sales up 21%. I'm not exactly a numbers person, but even I know that's colossal. "It's not at that level now, but it is at a very stable level," Accordino said at the conference. 
Now look, this by no means implies we're over the sandwich. In fact, as president of the Popeyes Chicken Sandwich club (disclaimer: this is an unofficial title I just gave myself for a club that doesn't actually exist), I'd say the hype will never die. Sure, we're no longer throwing fists over a location's dwindling supply, but isn't that just called personal growth? The chicken's still fried to perfection, the buns as buttery as before, and the pickles add the same tangy crunch. 
h/tCNBC
Sign up here for our daily Thrillist email and subscribe here for our YouTube channel to get your fix of the best in food/drink/fun.