Popeyes Is Throwing Serious Shade at Chick-fil-A Again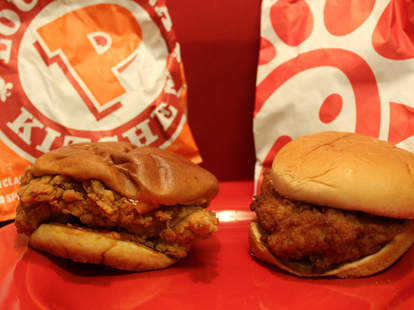 The Popeyes vs. Chick-fil-A rivalry has been one for the books -- and it's only been going on for a few months. And while we thought the feud was finally dying down (i.e. the latter accepted its rightful defeat), turns out the Great Chicken Sandwich War of 2019 is far from over, thanks to some fresh shade from Popeyes this week.
On Thursday, Popeyes emerged on Twitter to stir the pot, tweeting, "I'm gonna tell my kids this is the Original Chicken Sandwich," alongside a shot of its own chicken sandwich. It may seem like an innocent attempt at cultural relevance (you've seen the "gonna tell my kids" meme), "Home of the Original Chicken Sandwich" is Chick-fil-A's whole schtick. Might as well have just @-ed them. 
Popeyes, however, didn't get away clean. Rival chain Church's Chicken tried to edge its way into the spotlight, writing, "Aaand we knew it. Humor as dry as your biscuits." Fans also sounded off in the comments. "Am tell my kids that popeyes chicken sandwich is overrated," one adversary clapped back. "It's everything I've ever wanted in a chicken sandwich! And it's far better than Chik-Fail-A's!" another added.
Here are a few more reactions:
Maaaaaannnn, I learned that you can't just buy one cuz one is simply not enough. I ate one at Popeye's and one omw home 😋😋😋😋

— Mrs. El Steph (@lsamayoa84) November 21, 2019
Y'all didn't start making chicken sandwiches until this year, so being y'all can't tell y'all kids that it the original chicken sandwich, be more professional

— Lerin Everett (@lerwood) November 22, 2019
This isn't the first time Popeyes has straight trolled its competition. ICYMI, the chain's chicken sandwich made its triumphant return to menus earlier this month...on a Sunday. And lest we not forget that "...y'all good" tweet either. I'm gonna go out on a limb and guess there's more blatant shade to come. It's only fueling sales: 
"The Chicken Sandwich was the biggest product launch in the history of our brand and we thought it would be fun to connect with our fans by jumping on the pop-culture trend we're seeing on social media that explains today's events to future generations," Popeyes wrote in a statement.
Yo, Chick-fil-A, we're expecting a fire comeback.
h/t Business Insider 
Sign up here for our daily Thrillist email and subscribe here for our YouTube channel to get your fix of the best in food/drink/fun.
Megan Schaltegger is a staff writer at Thrillist. Follow her @MegSchaltegger.