Popeyes Started Work on Its Chicken Sandwich All the Way Back in 2016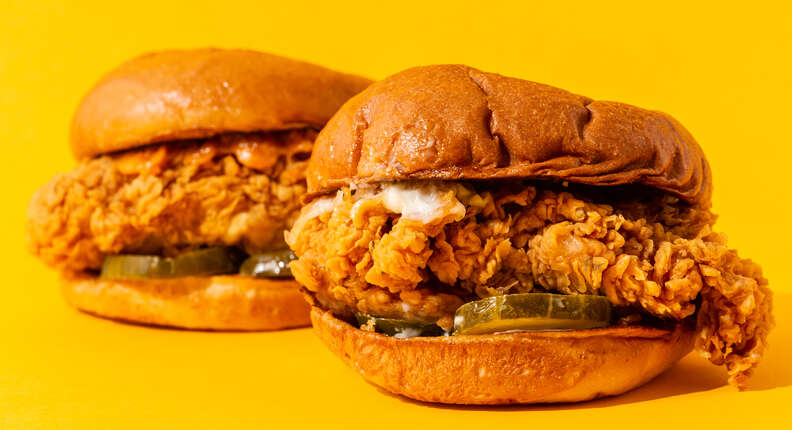 Cole Saladino/Thrillist
Cole Saladino/Thrillist
When Popeyes first debuted its hefty, pickle-laden fried chicken sandwich with just the right amount of heat back in August, we said it was the best new thing in fast food (and we still stand by this). The Popeyes sandwich -- despite the petty feuds, sexy Halloween costumes, and all of the other questionable stuff it brought with it -- will safely go down as a highlight of 2019. But it turns out the stupidly popular sandwich's story started three years ago.
In 2016, Popeyes' Vice President of Culinary Innovation Amy Alarcon set out to make an undeniably good chicken sandwich. A chicken sandwich made with hand-selected bread. A chicken sandwich made with fresh pickles. A chicken sandwich unlike anything the chain had offered before.
"We've had sandwiches before. Where are they now? They're not here," Alarcon said with a laugh during an interview with Thrillist at a recent press event in New York City. The chain's prior sandwiches, like a fried shrimp po' boy and a sandwich that was made with chicken tenders, well, they didn't get quite the same response as the current chicken sandwich.
"We felt like we didn't have something that appealed to everyone, so we started in late 2016," she said. "It was actually the very first time we had a workshop in the kitchen."
About five months later, Alarcon had something she was ready to put in front of consumers in product tests. She opted for sweet brioche bread, creamy mayo, tart pickles, and fried chicken that uses the same signature spices as Popeyes' regular chicken. The result, according Alarcon? "One of the best scores I've ever gotten of any product I've done in consumer research. So we kind of knew [we were onto something]."
"[The sandwich is] everything customers love about Popeyes," Alarcon said. "That's the best thing about this sandwich; it's like a microcosm of our brand that you can hold in your hand."
Devising the sandwich wasn't the challenging part. She had a vision of what would work and the product tests confirmed her intuition. The real test, however, was creating that same delicious product on a large, nationwide scale without losing the quiet magic that ultimately made the Popeyes chicken sandwich the Popeyes chicken sandwich. How do you get fresh barrel-cured pickles, pillowy soft buns, glistening fried chicken, and creamy mayo done exactly right at over 2,500 locations? It's the fundamental challenge every fast food chain faces so that we can unwrap a chicken sandwich or cheeseburger or taco that's just as good as last time and will be just as good next time.
"It's about getting into the restaurant and getting the operations nailed down, making sure we can execute it," she said. "That actually is the part we were really serious about."
That meant training staff at all the Popeyes locations, partnering with the right bakeries to create that damn-good brioche bun at a scale, and getting the right chicken supplier. You can see why it took a couple of years for that initial idea to translate into a nationwide sell-out. But of course, with all this is mind, it also explains why it took so long -- a little over two months -- for Popeyes to restock its bestseller.
"We did not expect to run out of supply at all, so we're super humbled by how well the product was received by our guests and our fans around the country," Felipe Athayde, the president of Popeyes America, said at the event.
A two-month supply of the fried chicken sandwich vanished within two weeks, all thanks to viral social media posts and word of mouth -- especially among Black Twitter. Even the sandwich's long-awaited return has proven to be hectic, with lines of cars wrapped around drive-thrus and customers waiting upwards of two hours for a chance to try the popular food item. Of course, Popeyes also took aim at Chick-fil-A to market the sandwich, purposely resuming sales on National Sandwich Day, which also happened to fall on a Sunday this year. And, as well all know, Chick-fil-A is closed on Sundays.
"As a marketer, it's really exciting to see the power of people talking to people," Bruno Cardinali, the head of North America marketing at the chicken chain, said. "It basically did the whole job for us."
Arguably too well. There have been reports of violence related to the chicken sandwich at some Popeyes locations, including a deadly stabbing attack in Maryland on Monday, the sandwich's second day back in stores. Another person seeking a chicken sandwich apparently damaged their car in a separate incident. So far, it's unclear when there will be enough sandwiches for everyone, and when the chaos will end.
Popeyes claims the sandwich is back for good now, so hopefully, the supply will soon meet the insane demand.
"[The sandwich is] everything customers love about Popeyes," Alarcon said. "That's the best thing about this sandwich; it's like a microcosm of our brand that you can hold in your hand."
To end our conversation, Alarcon sneakily handed me a spicy chicken sandwich, patted my hand, and told me to enjoy. And, with one of the most sought after sandwiches in America right now, enjoy I did.
Sign up here for our daily Thrillist email and subscribe here for our YouTube channel to get your fix of the best in food/drink/fun.
Kat Thompson is a staff writer at Thrillist. Follow her on Twitter @katthompsonn.