Popeyes Actually Put a Dent in McDonald's Chicken Sandwich Sales
While everyone and their mother is off celebrating the imminent return of Popeyes' sold-out chicken sandwich, McDonald's is shaking. Earlier this week, the fast food chain revealed just how damaging the fried chicken sandwich war has been on its chicken sandwich business. 
According to Business Insider, McDonald's same-store sales grew 4.8% in the last quarter in the United States, and while that may seem like a good thing, it's not. The previous period saw 5.7% growth and execs are blaming the recent decline on "competitive pressure" from August and September. *Cough, Popeyes, cough.* 
"We said in the US we did gain hamburger share in the quarter," McDonald's Chief Financial Officer Kevin Ozan said in a call with investors, per the BI report. "I think it's fair to assume that ... we went a little bit the opposite way on chicken."
In case you've been, I don't know, living under a rock, Popeyes debuted its now iconic fried chicken masterpiece back in August to a near-instant craze. And soon after the debut, Chick-fil-A, Wendy's, and others began what would soon go down in history as the Great Chicken Sandwich War of 2019. Though, clearly, none of 'em stood a chance up against Popeyes.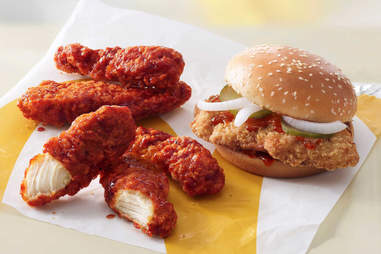 McDonald's
Despite trying its hand at a chicken sandwich revamp themselves -- McDonald's premiered its Spicy BBQ chicken sandwich and tenders in early September -- it's doesn't appear to be a formidable match. In fact, it wasn't even mentioned during Tuesday's investor's meeting, according to the report. 
Mickey D's has reportedly aimed its efforts at crafting a new chicken sandwich recipe, with sources calling it a "top priority." But I hate to break it to them, the Popeyes one has ruined us for every other version out there. It's not personal, just a fact.
Sign up here for our daily Thrillist email and subscribe here for our YouTube channel to get your fix of the best in food/drink/fun.
Megan Schaltegger is a staff writer at Thrillist. Follow her @MegSchaltegger.