Of Course Popeyes Is Selling a Chicken Sandwich Ugly Christmas Sweater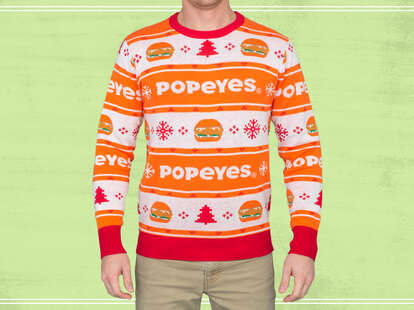 Edited - Courtesy of Popeyes
2019 will forever go down in history as the year of the chicken sandwich. Popeyes blew away every other fast food chain with the debut of its delectable chicken sandwich, a product it started developing way back in 2016. The result was buttery, salty, pickle-filled perfection and the world of chicken sandwiches -- and social media -- was forever changed.
Fast forward to now -- only a few months later -- and everything chicken sandwich mania has settled down a bit. Popeyes' chicken sandwich is officially back without plans to exit the menu anytime soon, Chick-fil-A has agreed to stop funding anti-LGBTQ charities, and McDonald's is working on bringing a traditional chicken sandwich to its menu. All is well. To celebrate this time of prosperity, why not don a Popeyes Chicken Sandwich Ugly Christmas Sweater?
Popeyes' ugly Christmas sweater, which features the sensational sandwich, was created in a partnership with UglyChristmasSweater.com, according to a spokesperson for the chain. In addition to rows of the crunchy fried chicken sandwiches, the sweater is decorated with snowflakes and Christmas trees. It's both festive and hunger-inducing.
You can wrap up the year of the chicken sandwich in this cozy sweater by ordering one here for $44.96, or get it for that friend who waited two hours to eat the sandwich when it first launched -- and told everyone firmly that it was worth it.
Sign up here for our daily Thrillist email and subscribe here for our YouTube channel to get your fix of the best in food/drink/fun.
Kat Thompson is a staff writer at Thrillist. Follow her on Twitter @katthompsonn.