This Easy Hack Is a Delicious New Twist on the Popeyes Chicken Sandwich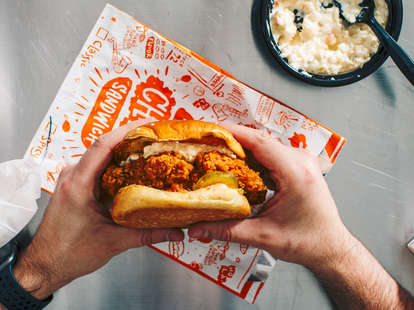 Cole Saladino/Thrillist
Cole Saladino/Thrillist
Introducing The Fasties, Thrillist's first fast food awards. Think glitzy TV and movie award show, but to honor the best things that came out of fast food restaurants in 2019. We rolled out the ketchup carpet for fast food's biggest names and handed out golden burger trophies in 16 categories. Watch the full awards show and check out the winners here.
The Popeyes Chicken Sandwich is easily among the best things to happen in the world of fast food in a long time. The combination of its juicy fried chicken, decadent buttered brioche bun, sizable pickle chips, and sauce is near-perfect, especially when you consider it's only $3.99. So, how can such a sandwich ever be improved? We think we've found a way.
If you're ready to put a fresh spin on your next Popeyes Chicken Sandwich, then look no further than an easy hack you can pull off just by ordering the sandwich as part of a combo meal.
Add some coleslaw to your chicken sandwich
Yes, get a side of coleslaw, remove the top of the bun, and spoon the mayo mixture onto the top of the chicken. And thank us later. The combination of the hot chicken, steam curling up from every bite, is cooled down by the addition of gently sweet coleslaw. Look, coleslaw is typically the last side I would opt for from Popeyes. There's mac & cheese to be had, smoky red beans and rice, buttery biscuits, and salty Cajun fries. But on top of the sandwich, coleslaw shines.
The coleslaw from Popeyes is chopped into fine squares, so don't expect stringy shredded cabbage that's overly wet. The cabbage, pickle relish, and carrots in a light mayo mixture rests easily on the fried chicken, providing a honeyed flavor that tempers the heat of the spicy Cajun sauce, if you order the spicy version of the sandwich. It livens up the sandwich. If you're someone who typically enjoys sweet heat, you'll definitely like this hack.
Coleslaw isn't the only enhancement you can make
If coleslaw isn't your thing, but you're still interested in achieving a sweet and spicy flavor from your sandwich, we'd also recommend drizzling the bird in a glistening coat of honey with some dashes of hot sauce. The combination is bright against the backdrop of the briny pickles and well-seasoned batter.
Yes, Popeyes' chicken sandwich is great, but it's not perfect. There's always room for improvement.
Sign up here for our daily Thrillist email and subscribe here for our YouTube channel to get your fix of the best in food/drink/fun.
Kat Thompson is a staff writer at Thrillist. Follow her on Twitter @katthompsonn.