Popeyes Is Unleashing Massive Meal Bundles with Enough to Feed the Whole Fam
Feed everyone in your social distancing range with these ready-made orders.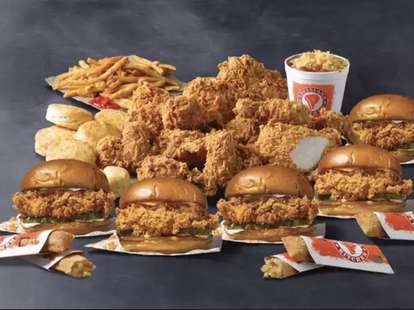 The only thing better than a Popeyes chicken sandwich is multiple Popeyes chicken sandwiches. And now you can get just that -- along with the chain's signature tenders and sides -- via meal bundles.
The Fasties award-winner has introduced a combo deal with enough food to feed the whole fam and then some. With three size options, varying in price, customers can opt for whatever bundle best suits their group (or appetite). Though the vast majority of dining rooms remain closed amidst the COVID-19 crisis, Popeyes is committed to keeping customers safe while still serving via drive-thru, pickup, and delivery.
Here are the meal deal bundles:
3 Sandwich Family Meal: 8 pieces of the chain's signature chicken (mild or spicy), three chicken sandwiches, one large side, four biscuits, and three apple pies. Prices may vary but around $38.
4 Sandwich Family Meal: four chicken sandwiches, one large side, and four biscuits. Prices may vary, but around $22.
5 Sandwich Family Meal: 12 pieces of the brand's signature chicken (mild or spicy), five chicken sandwiches, two large sides, six biscuits, and five apple pies. Prices may vary, but around $60.
Despite closing down dining rooms, Popeyes has actually seen a surge in sales during the lockdown, Bloomberg reports, with a 26% spike in first-quarter comparable sales. According to Restaurant Brands International Inc., the chain's parent company, that buzzed-about chicken sandwich is still the driving force behind sales -- one that even the coronavirus can't budge.
Sign up here for our daily Thrillist email and subscribe here for our YouTube channel to get your fix of the best in food/drink/fun.
Megan Schaltegger is a staff writer at Thrillist.